On Tuesday 3 November, Americans will vote in what promises to be one of the most important elections in the history of the country, and the world will be watching with keen interest.
Will Donald Trump win a second term, or will former Vice–President Joe Biden take the top job?
Here is a BIG question:
Who would best serve the interests of both America and her ally Israel?
General Titus destroyed Jerusalem, but millennia later, President Trump has done more than any modern President to help to build up Israel.
Amazingly, day by day, the Abraham Accords initiated by the Trump Administration seem to be deepening and proliferating!
No leader in US history has been as supportive of Israel as Donald Trump, according to Josh Reinstein, director of the Knesset Christian Allies Caucus (KCAC) and president of the Israel Allies Foundation (IAF).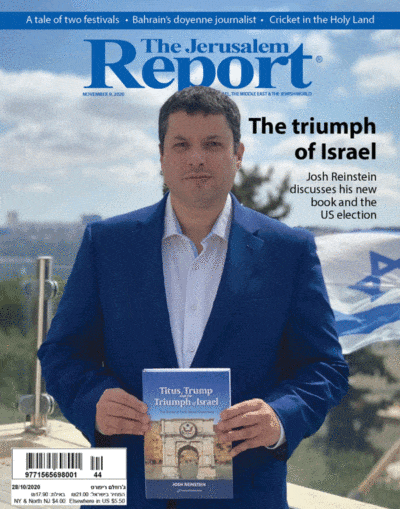 Now Josh Reinstein's new bestseller is a must read for the spiritually and politically astute believer, and those who desire to understand the role of faith-based diplomacy. Josh is the leader of the Israel Allies Caucus in Israel.
The book's cover speaks volumes showing Rome's Arch of Titus declaring victory over the Jews but superimposed with the seal of the US Embassy which was finally moved to the restored Jewish capital Jerusalem by President Trump. In the background is the Western Wall plaza of the Temple Mount.
We are living in mysterious yet miraculous times. On the one hand, we have witnessed the most remarkable fulfilment of Biblical prophecy: the Jewish people's return to Israel and the prosperity and contributions of this tiny country to the world in such a short time.
On the other hand, we have seen an unexpected rise in anti-Semitism which takes the form of anti-Zionism and alliances between groups that are fighting against the most fundamental biblical values.
Part of the current battle over the US presidential election concerns the ultimate trump of the nation of Israel. While many American Jews are voting for Biden, many Israelis who are actually living in the Land know that Trump is their true friend. The division in world views has become starker than ever. Josh Reinstein's initiative of faith-based diplomacy is at the center of this tension, explaining what lies behind the recent wave of support for Israel and the counter force. Josh answers important questions to clarify what drives the political actions that we witness today and which path should be taken to move forward. Available at Amazon and please leave a review:
https://www.amazon.com/…/dp/9657023319/ref=as_li_ss_tl…