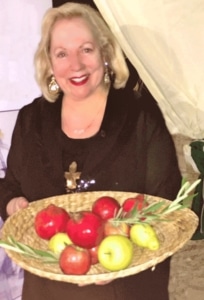 By Christine Darg
Jerusalem Channel
The LORD is spreading his VIRTUAL TENT over the entire earth during this year's Feast of Tabernacles (Succot in Hebrew). You are cordially invited to prophetic events from the comfort of your home, tablets or iPhones!
Psalm 76: 2 declares the LORD's tent is in Jerusalem, his dwelling place in Zion. However, the Almighty is enlarging his tent this Succot virtually to include all the nations in extraordinary on-line events for Jews and Christians together!
The day is coming when the nations will proclaim Isaiah 2: 3,
"Come, and let us go up to the mountain of the LORD, To the house of the God of Jacob; He will teach us His ways, And we shall walk in His paths." For out of Zion shall go forth the law, And the word of the LORD from Jerusalem.
But until that day, in the meantime, the Lord's Tent, the Tabernacle of the LORD, is coming to YOU….virtually! This is the Lord's doing; and it is marvellous in our eyes.
We will rejoice together in anticipation of Zechariah 14: 16, which prophesies that the nations will come up to Jerusalem during the Millennial reign of King Messiah specifically to celebrate this feast:
Then all the survivors from the nations that came against Jerusalem will go up year after year to worship the King, the LORD of Hosts, and to celebrate the Feast of Tabernacles.
During this FESTIVAL OF JOY, online virtual pilgrims can enjoy various events such as the ICEJ's Feast of Tabernacles  which costs as little as $50 to register on line. To Register for Root Source's prayer for President Trump and Succot address by Rabbi Daniel Lapin, click here. Additionally there will be the unique virtual pilgrimage during Simchat Torah, (the last and culminating day of the Feast), sponsored by the Genesis 123 Foundation. To register for the free, no cost October 10 event CLICK HERE.
To register for the October 10 is free on Facebook: https://fb.me/e/6E15iHYwt 
For information to become a sponsor, or for media, please contact the Genesis 123 Foundation at [email protected] or 1-201-203-0983
The Jerusalem Channel 's Christine and Peter Darg will join with Jonathan Feldstein, president of the Genesis 123 Foundation, when for the first time Jews and Christians will celebrate virtually together Simchat Torah, meaning "Rejoicing of the Torah," on the last day of Tabernacles October 10. It will be a 12-hour on-line event stretching from Australia to Alaska. Various Christian leaders will bring prayers for Israel and participating rabbis will thank the Lord for Christians who understand the Bible promises concerning Israel.
There will be an opportunity to send prayers to the Western Wall, as explained by Jonathan Feldstein, "Countless people around the world will  be invited to share their prayers in writing that will be placed in the cracks of the Western Wall.  As the global pandemic prevents people from bringing their prayers to Israel in person, our Virtual Pilgrimage allows that in reality."
Isaiah 56 is coming to pass through the prophetic action of the Genesis 123 Foundation:
I will give them an everlasting name that will not be cut off. And  the foreigners who join themselves to the LORD to minister to Him, to love the name of the LORD, and to be His servants—…I will bring them to My holy mountain and make them joyful in My house of prayer…..for My house will be called a house of prayer for all the nations."