Due to the current shutdown, tourists sadly aren't able to visit Israel, but the door is wide open to jabbed and unjabbed tourists in Biblical Jordan!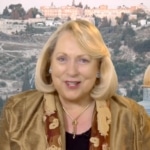 By Christine Darg
Jerusalem Channel
As of this writing, the Hashemite Kingdom of Jordan is wide open to tourism–and Jordan is also the Holy Land!
Today's kingdom of Jordan consists of the Biblical lands of Reuben, Gad and the half tribe of Manesseh as well as Moab and Edom chock-full of sites to visit from Amman to Aqaba.
Stops include the baptismal site of John the Baptist, refreshing springs at the Dead Sea, the site of the rapture of Elijah, the Gadarene side of the Galilee and, of course, the prophetic stronghold of Petra, which has been voted one of the new "Seven Wonders of the World."
My friend Deslee Campbell writes in her book, "The Other Holy Lands," Jesus visited "regions that are not within Israel's present borders, which set those places into a special category as recipients of Divine favour."
I have always taught that it is well worth the effort and expense to walk where Jesus walked because the Bible comes to life in technicolor! Disappointed that Israel is going through yet another lockdown due to Covid fears, we have prayerfully decided to stage our annual New Year Intercessory Prayer Convocation, the Watchmen and Women on the Walls, 13 to 17 January 2022 in Jordan. Of course, international travel restrictions are subject to constant change, but we are trusting the Lord that He is bringing our faithful band of intercessors together again to commit 2022 and the region to Him in strategic prayer.  This time we will be like Moses on Mt. Nebo looking into the Promised Land on the other side.
Jordan's approach to tourism is all inclusive common sense. So what's involved in visiting Jordan, whether you attend our Prayer Convocation or just want an individual pilgrimage?
Start with the country's official website www.visitJordan.gov.jo and fill out the on-line form once you have booked an airline ticket. You'll need to show a PCR test 3 days before departing and once on arrival at Amman airport, if you're fully vaccinated, bear right at arrivals and show your documentation. If you're not jabbed, bear left at the arrivals to the rapid PCR test facility. This should be booked in advance online and costs 28 dinars. Everyone will need a visa but the quickest, cheapest and easiest way is to apply online for a Jordan Pass costing 70 dinars. This sightseeing pass includes the entry visa fee and admission to more than 40 historic and biblical sites. Next comes the quick passport control (make sure you have at least six months' validity remaining on your passport). Airport taxis are metered and fares are set for primary destinations.