At a fellowship in Aqaba, Jordan, the preacher's text was Psalm 68:
Let God ARISE, let his enemies be scattered: let them also that hate him flee before him.

2 As smoke is driven away, so drive them away: as wax melteth before the fire, so let the wicked perish at the presence of God.

3 But let the righteous be glad; let them rejoice before God: yea, let them exceedingly rejoice.

4 Sing unto God, sing praises to his name: extol him that rideth upon the heavens by his name Jah, and rejoice before him.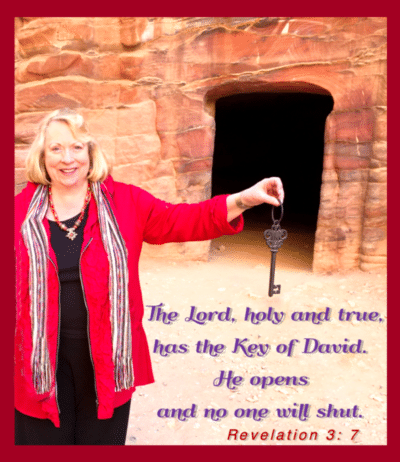 By Christine Darg
Jerusalem Channel
During worship at a fellowship in Aqaba, Jordan, the Lord gave me the following prophetic utterances [with scriptural references added]:
Talitha cumi, little girl, My church in Jordan, I say unto you, ARISE; you are not dead; you are only sleeping. [Mark 5:39]  
I know you have but a little strength [Revelation 3:8] … yet, behold, I have opened before you a door that no man can shut. Now I say unto you [Ephesians 5: 14] "Awake, O sleeper, rise up from the dead, and Messiah will give you light." 
My church in Jordan! Prepare for the massive spiritual earthquake to come. Prepare, prepare, prepare! Have I not foretold in Revelation 12: 6 that the woman, [Israel], must flee into the wilderness to a place PREPARED by God where she will be sustained for many days? 
Yes, from the foundations of the earth, I have prepared this place in your nation, and the golden triangle shall escape out of the grip of the Son of Perdition, the Man of Sin, the coming lawless one [anti-messiah] who will exalt himself in the to-be-rebuilt temple of God, claiming to be God, [2 Thessalonians 2:4] defiling the holy place in Jerusalem with an abomination that will make desolate, spoken of by Daniel the prophet, [let all who hear understand] and at that time my people in biblical Judea must flee to the mountains as I warned [Matthew 24:15-16] and they must pray that their escape does not happen on a Sabbath day. See, I have told you in advance, says the Lord.
Now as my servant Moses prophesied in the wilderness,  "Arise, Adonai! May your enemies be scattered! Let those who hate you flee before you!" When the ark of God's presence stopped, Moses said,
"Return, Adonai unto the many, many thousands of Israel!"
שובה יהוה רבבות אלפי ישראל
So now I, the LORD, am indeed preparing to return to my people Israel! The prophecies in the Book of Hosea are surely coming to pass. Yes, I went away and returned to My place, awaiting for them to acknowledge their offence and seek My face, and they have indeed dwelt for many days without a king, without sacrifices and without an ephod, but they will seek Me early in the time of their affliction [Hosea 3: 4; 5: 15] and mourn for Me. [Zechariah 12: 10]
Now know and perceive that the Church Age is winding up. [Luke 21: 24; Romans 11: 25] Yet My churches throughout the world and especially in this strategic region do not recognize the times and My appointed seasons. My people, why are your hearts hardened and your spiritual eyes dulled to these eternal truths? Why do you not understand the times and the seasons? Why are you ignorant of My Word? Why do you not know that you have come to the kingdom for such an End time as this? 
My church in the Biblical regions must prepare for the huge net I will let down from heaven to save multitudes and to catch away My people, for it is the time of the fullness of the Gentiles. You have heard tonight that whenever the ark of the divine Presence came to rest in the wilderness, yea even in this very vicinity, My servant Moses beckoned me, "Return, O LORD, to the myriads of Israel." [Numbers 10: 36] and I am preparing to do just that, to return to the myriads of Israel– yet the Church does not perceive that one age, the Church Age, is closing and a new age is beginning –when the kingdom shall be restored to Israel [Acts 1: 6] and Messiah will return to Mount Zion to rule on the throne of his father David, just as Gabriel prophesied to Mary. [Luke 1: 32-33] 
Listen, My people, I am about to do a work in this region that will surpass all other moves of God, and why are you not preparing for the Harvest and why are you not watching carefully my timetable? [Daniel 9: 20- 27] Why is this not in your daily conversation? 
Do not be caught short! Do not call Me "Lord" and yet despise the returning presence of My own people the Jews? Enlarge your hearts for your half brothers. Do not be like the stubborn brother who resented his returning sibling, the prodigal. [Luke 15: 11] And do not be like the unwise virgins who had insufficient oil in their lamps. [Matthew 25] 
I am about to orchestrate an unprecedented time [Mathew 24: 21] in the region that will bring earthquakes to borders. . . for I have ordained the safety of my people. [Revelation 12] 
Therefore it is not by chance that I have brought each of you here to this kingdom for my eternal purposes, but you must understand the golden opportunity I have presented to you in this hour, and you must ARISE to the challenge. Be like the children of Issachar, understand the times and know what Israel should do. [1 Chronicles 12: 32]
Arise, O LORD, into thy resting place! [Psalm 132: 8]