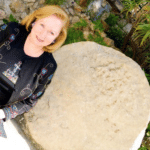 By Christine Darg
Jerusalem Channel
By the grace and calling of God, for years I've referred to myself as an evangelist of the Empty Tomb in Jerusalem.
Don't be surprised that a woman is an evangelist of the Empty Tomb of Jesus!
The first evangelist of the Empty Tomb was a woman: Mary Magdalene
She was more devoted to Lord than most of the disciples so it was to her that the Lord appeared and Jesus gave the Magdalene the responsibility to tell the Good News to his apostles that He was risen indeed!
On Facebook, an Orthodox Jew quoted as an argument the New Testament's Great Commission in Mark 16: 17, "these signs will follow those who believe: Jesus said in my Name they will cast out devils and they shall lay hands on the sick and the sick will recover."  He said– if Jesus is the son of God, why are so many Christians sick?  I answered the fault is not with Jesus. The fault is never with the Lord.  The reason why so many people are not walking in Gospel power is because of unbelieving believers!  
When preparing for this message, the weekly Torah portion includes the beloved story of Jacob at Bethel when he had a dream of "Jacob's ladder" with angels ascending and descending on the ladder. Jacob said: "Surely this is the house of God and the gate to heaven!" 
According to the Ramban: in a prophetic dream, God showed Jacob that whatever is down on earth is effected by means of the angels, and that everything is done by decree given to them by the Supreme One. "For He will give His angels charge over you, to keep thee in all your ways." (Psalms 91:11).  
According to Hebrew for Christians, "The faithful 'descend in order to ascend,' which means they first suffer and then they are glorified. This is the pattern of Yeshua, who emptied himself and suffered before he was raised up in everlasting glory. "Unless a seed of wheat falls into the earth and dies, it remains alone; but if it dies, it bears much fruit." (John 12:24; 1 Cor. 15:36). God humbles and tests those whom he loves so they may learn to trust in his promise – his word – and to demonstrate his faithfulness in the end. (Deut. 8:3; Rom. 11:36)
     Yeshua, as we learn from the gospel (John 1:51) explained that Jacob's ladder ultimately referred to him –  how the angels followed him during his ascent and descent as the ladder or "bridge" between God and man. The descent refers to Yeshua's incarnation wherein he entered the realm of this world, clothed in human flesh as the Promised Seed, the "Son of Man" who would restore the lost dominion of Adam; whereas the ascent refers to Yeshua's resurrection – the redemption and return of fallen humanity by means of ascension and glorification as LORD over all.  Luther understands the angelic host descending and ascending to reveal how the angels love and follow after their Lord — whose face they do always behold — eager to behold His advent as our Savior and Redeemer (see Matt. 18:10; 1 Pet. 1:12; 1 Tim. 3:16).  [Hebrew for Christians]
By faith, we can create a similar gateway anywhere—in our homes, prayer closets, special places of prayer.  We declare it to be  a house of God and a gateway to heaven with angels ascending and descending.  It becomes holy ground, a consecrated place of miracles and encounters with the Lord!
A true Bible evangelist preaches not only eternal salvation of our souls through faith in the Atonement of Jesus, but a Bible-style evangelist also preaches that the Atonement of Jesus includes healing of our bodies and mental distresses.  In the New Testament the example of a Gospel herald is Philip who is called Philip the Evangelist: he preached Christ and what was the result? Demons came out of people and they were healed of all manner of diseases, cripples walked, etc.  We will not settle for anything less than a New Testament style evangelist!  Come Holy Spirit and meet the people's needs.  We speak an elimination  to every need through the might and creativity of Jesus.
WE HAVE TO PAY THE PRICE TO TRAIN OURSELVES TO BELIEVE GOD.  The Lord is the High Priest of our confession, so watch what you say.  Philippians 2:14  "Do all things without murmurings and disputings that you may be blameless, the sons of God, without rebuke, in the midst of a crooked and perverse generation among whom you shine as lights in the world!"
Time is where many miss it.   You may believe God for an hour, day, week, etc.,  But Jesus said in Mark 11:23,  "Truly I say unto you that whoever shall say unto this mountain:  Be removed and be cast into the sea, and shall not doubt in his heart but shall believe the things that he says shall come to pass, he shall have whatsoever he says."
What is the Lord's attitude to sickness? Righteous anger, rebuke, compassion, always willing to heal.
What is Jesus's attitude to demonic activity?  Righteous anger, rebuke!
What is Jesus's attitude to sin?  Willing to forgive.  He forgives!
Returning to the account of the Torah, after Jacob received this dramatic vision, he awoke from his sleep and exclaimed: "Surely God is in this place, but I did not know!" And he was afraid, and said, "How dreadful is this place! this is none other but the house of God (בֵּית אֱלֹהִים), and this is the gate of heaven" (וְזֶה שַׁעַר הַשָּׁמָיִם, Gen. 28:16-17).  Amen, Yeshua is ha'makom (המקום), the appointed "Place" of God, the very "House" of His presence; he alone is the way that leads us back to the Father (John 14:6).  Yeshua is the Bridge to the Father, the narrow way of passage that leads to life. He has healed us from the sting of death.  He calls out to us in the storm saying, "Take heart. It is I; be not afraid" (Matt. 14:27).  Amen.  [Hebrew for Christians]