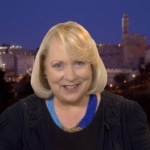 By Christine Darg
Jerusalem Channel
The Feast of Trumpets is the most mysterious of all the Levitical festivals of the LORD because it qualifies for the biblical description,  "The day or hour no man knows."
The Feast of Trumpets date is the only ambiguous date of the LORD's appointed festivals due to the necessity of the Jews to sight the new moon. The end of the Feast of Trumpets is therefore ambiguous for the same reason.
The festival is listed for two days on our modern calendars to allow for the sighting of the sliver of the new moon. The last trump would be at twilight in Israel at the end of whichever day it turns out to be–September 6, 7, 8 this year?
Definition of twilight: a period or state of obscurity, ambiguity. The first rays of twilight could be compared to the twinkling of an eye.
The Feast of Trumpets in Hebrew was first called by God "Zichron Teruah" [a Memorial of Blowing Trumpets} in Leviticus 23: 24 and in Numbers 29: 1 it is called "Yom Teruah" יום תרועה meaning foremost Day of SHOUT or trumpet blast.
Rabbi Shaul, aka the Apostle Paul, revealed in the New Testament, "Behold, Listen very carefully, I tell you a mystery [a secret truth decreed by God and previously hidden, but now revealed]; we will not all sleep [in death], but we will all be [completely] changed [wondrously transformed], in a moment, in the twinkling of an eye, at [the sound of] the last trumpet call. For a trumpet will sound, and the dead [who believed in Messiah] will be raised imperishable, and we will be [completely] changed [wondrously transformed]." (1 Corinthians 15: 51-52 Amplified)
This revelation of the Rapture (a Latinized word for the "catching away") was also described by Paul in 1 Thessalonians 4: 15-18, "By the word of the Lord, we declare to you that we who are alive and remain until the coming of the Lord will by no means precede those who have fallen asleep. [died] For the Lord Himself will descend from heaven with a SHOUT, with the VOICE of an archangel, and with the TRUMPET [shofar] of God, and the dead in Messiah will be the first to rise. After that, we who are alive and remain will be CAUGHT UP [raptured, translated] together with them in the clouds to meet the Lord in the air. And so we will always be with the Lord. Therefore encourage one another with these words."
Maranatha!