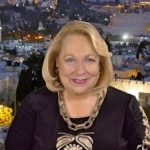 By Christine Darg
Jerusalem Channel
"… we therefore commit these bodies to the ground, earth to earth, ashes to ashes, dust to dust. . ." The ashes of another holocaust have provided the greatest wake-up call to Israel since THE Holocaust when Jewish hope was dried up. Now, however, the new holocaust perpetrated by Hamas has triggered a different spirit. Israel is arising out of the ashes this time with messianic fervour.
Bible prophecy predicts that events will get worse before they get better with the return of the Lord. The attack on Israel is an unmistakable sign that we have entered a dangerous and trying time. In fact, my friend Albert Veksler, director of the Jerusalem Prayer Breakfast movement, stated in an interview with Rabbi Chaim Eisen that this is the "time of Jacob's Trouble." But the Word of God states in Jeremiah 30: 7 Jacob —Israel—shall be saved out of it!
Meanwhile Rabbi Eisen stated that a "profound religious revival" is occurring in the wake of the unprovoked October 7 Massacre— despite previous months of division in Israeli society. The barbarity of Hamas has served unwittingly as the means to restore Israel's unity! Both secular and religious Israelis are reciting Psalms.
Psalm 25 A Plea for Deliverance, A Psalm of David

. . . .2 Let not my enemies triumph over me. . . .

16 Turn Yourself to me, and have mercy on me, For I am desolate and afflicted.

17 The troubles of my heart have enlarged; Bring me out of my distresses!

18 Look on my affliction and my pain, and forgive all my sins.

19 Consider my enemies, for they are many; and they hate me with cruel hatred. . . .22 Redeem Israel, O God, out of all their troubles!
Of course it's been said that there is no atheist in a foxhole but previously non-religious soldiers are praying before going into battle shouting, "The Lord He is God!" like the Israelites of old when Elijah confronted the prophets of Baal.  Long-lost spirituality and connection to God are coming alive! One rabbi commented that
"God is forcing us to get in touch!"
At this present time God is allowing Israel to be perfected. Isaiah 10: 27 declares the "yoke will be destroyed because of the anointing." Amen! Yes! the anointing breaks the yoke! We pray—Lord, Send the Holy Spirit to every hostage cell, also to each home, bomb shelter and hotel room where evacuees are being housed. Let your wounded and grieving people see You with outstretched [wounded] hands embracing them. Grant new supernatural strength and divine health for hostages and families and the bereaved to endure. Rescue the hostages and pull out of Gaza any righteous souls before the complete destruction of the city— just as Abraham's nephew Lot was rescued by angels.
Israel Antiquities Authority archaeologists, [top photo] have been enlisted to help the Israel Defense Force to identify remains in burnt houses in the Israeli communities around Gaza. So far they have uncovered remains of at least ten persons. Forensic dentists and archaeologists have been sieving the ash of families from Kibbutz Be'eri, Kfar Aza and Nir Oz who were murdered, as well as cars that were destroyed, turning the victim passengers into black ash.  To download photos click here. For a video clip with English subtitles please click here
Organizations that support alternative lifestyles, feminists, progressives and even left-wing Jews are among those who applaud the Hamas rapes, beheadings, burning alive, cooking a baby in an oven, mass murder and kidnappings of Jews. However, if these naive, misguided groups were actually to travel to jihadist zones, they would be murdered, so stated lawyer Alan M. Dershowitz in a Gatestone Institute article.
"Bigots hate Jews and their nation-state. This [war protest] has nothing to do with support for the Palestinian people, who are horribly oppressed by Hamas," Dershowitz said.. "If they really wanted to support the Palestinian people, they would be demonstrating for Palestinian freedom of speech, freedom of the press, freedom not to be used as a human shield, due process, equal justice under law, and especially freedom from the corrupt and repressive governance of their own leaders, some now safe from the devastation they began from their five-star hotels in Qatar."
The likely purpose of the October 7 Massacre from Iran's perspective was to undermine peace efforts between Israel and Arab states, especially Saudi Arabia. Americans should demand the American government keep out of meddling with Israel's response and allow it to defend its citizens as it sees fit. The forces of evil fester and spread, not just in the Middle East, but in our nations. The Hamas massacre is a wake up call for America and Britain to fortify against evil.
These are indeed days of Elijah. A friend commented, "in these most painful days … we see Israel producing increasing unity, brotherly love, care for neighbour across the recent divides and renewed seeking of the Lord's face, even the seculars. I just read that Messianics were invited to take part in the Day of Prayer yesterday – this is a great miracle! Meanwhile in the nations the darkness is growing and they are barely even aware of it for the most part. Of course the remnant is believing and speaking and praying."
To support the work of Christine Darg and The Jerusalem Channel, please visit www.JerusalemChannel.tv/donate/