"Comfort ye, comfort ye my people, saith your God…." (Isaiah 40:1)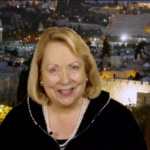 By Christine Darg
Jerusalem Channel
As End Time birth pangs increase, the world is becoming full of distressed souls in need of comfort, direction, deliverance and salvation. This was the prophet's mission, and now it's ours. 
We wonder why we pass through so many miserable and difficult situations but this is Gospel training so that we may learn to help others who go through the same afflictions to find comfort and meaning in their distress. It is not for nothing that we learn these valuable lessons. Our spiritual boot camp in this lifetime is learning "the Divine art of comfort." 
Let us never forget that grapes and olives are crushed to make wine and oil.  Diamonds are formed under pressure. We have to trust the process of being a work in progress.
For when we are wounded we learn how the Great Physician renders first aid.
This month we have begun reading through the Bible all over again to receive insights, strength and daily wisdom.
There is no doubt that our God is a healer, but he put Jacob's hip of joint when he wrestled with Jacob, when he changed Jacob's name (meaning supplanter) to Israel ("A Prince who has Prevailed with God").  
Oh what a struggle, but O what a comfort to receive such a supreme new name!
Jacob wrestling with the angel is an episode in the Bible that we can all identify with.  Jacob's limp was like a scar. He was indeed healed and blessed but he limped as a reminder of the connivance in his past. His limp reminded him to rest on the arm of the Almighty rather than taking matters into his own hands. A lesson we all need to learn daily!
Yes, indeed, daily you and I struggle against the desires of the flesh and against the world's many negative influences that tend to erode our faith if we are not diligent. The Almighty in the form of the angel of the Lord, no doubt was a Christophany (a manifestation of the pre-existent Christ). 
Jacob was no match for the Lord, but nevertheless the Lord condescended to wrestle with him all night. He was testing Jacob because he wanted to bless him and comfort him with success. 
Jacob said, "I will not let you go  until you bless me!" I believe Jacob's endurance in the wrestling match is one of the reasons why God testified "Jacob I have loved but Esau I have hated." (Malachi 1: 2-3; Romans 9: 13) Jacob had an appetite for God and spiritual things and pursued them. Esau neither deserved nor received the approval of God.
God's statement that he loved Jacob but Esau is a Hebraism meaning preference. It meant comparatively speaking, not absolutely. He is the Supreme Sovereign who specially privileges some, but is willing to bless all.
The Lord knocked Jacob's hip out of joint so that Jacob had to trust God when he went forward to meet his brother Esau whom he had cheated.
Often we are not wrestling with God but with our own nature. When we are weak in the flesh all the more we have to trust in the grace of God! Let us like Jacob cry out to God, and let us like the woman with the issue of blood in the New Testament, take hold of God and receive our blessing!
Be assured  that levels of revelation are reserved for those who have gone through the fire and the storm. We see his power when we press on and go through with God!
Shabbat shalom!