If I shut up heaven that there be no rain, or if I command the locusts to devour the land, or if I send a plague among my people; If my people, which are called by my name, shall humble themselves, and pray, and seek my face, and turn from their wicked ways; then will I hear from heaven, and will forgive their sin, and will heal their land. 2 Chronicles 7: 13-14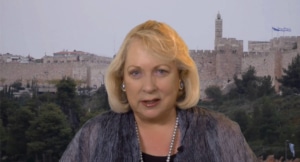 By Christine Darg, Jerusalem Channel
The spreading of the China coronavirus may not be one of the seven plagues mentioned in the Book of Revelation—I believe it is too mild compared to the terrors that will be outpoured during the Great Tribulation period.
However, corona and other plagues such as Ebola in recent years are surely foreshadowings and forewarnings of the plagues to come in the very last days.
The world has been caught short and suddenly realises how fragile everything truly is. Britain has said to Evangelist Billy Graham's son that he is not welcome to preach in venue after venue, and now God has closed down all the venues.
God is not mocked. Yet the Almighty is seeking for intercessors to stand in the gap tonight to make up the hedge of protection Israel and over all our nations.
It is vital during these 15 days that President Trump has called to slow the spread of the virus that every believer engages in identificational repentance to stop the plague.
One of my friends on Facebook commented that he didn't know what is identificational repentance, so it's vitally important that we not only learn it but practice it!
Aaron the high priest took his censer, a symbol of prayer and praise, and stood between the living and the dead to make atonement, and the plague in the Book of Numbers was stopped.
Daniel the prophet engaged in identification repentance on behalf of his people. His is a model prayer.
In Daniel Chapter 9, he confessed to God that God was perfectly righteous in bringing calamity and judgments upon his people because, as Daniel said in verse 14, "we obeyed not his voice."
Then follows Daniel's petition in verses 15-19 and as you read this, you might identify with it by putting in the names of your own capitals, countries and people groups– but also don't forget that this prayer was originally for the people of Israel –so we keep them foremost in our prayers tonight as we pray always for the peace of Jerusalem: 
"And now, O Lord our God, that hast brought thy people forth out of the land of Egypt with a mighty hand, and hast gotten thee renown, as at this day; we have sinned, we have done wickedly. O Lord, according to all thy righteousness, I beseech thee, let thine anger and thy fury be turned away from thy city Jerusalem, thy holy mountain: because for our sins, and for the iniquities of our fathers, Jerusalem and thy people are become a reproach to all that are about us. Now therefore, O our God, hear the prayer of thy servant, and his supplications, and cause thy face to shine upon thy sanctuary that is desolate, for the Lord's sake. O my God, incline thine ear, and hear; open thine eyes, and behold our desolations, and the city which is called by thy name: for we do not present our supplications before thee for our righteousnesses, but for thy great mercies. O Lord, hear; O Lord, forgive; O Lord, hearken and do; defer not, for thine own sake, O my God: for thy city and thy people are called by thy name."
Note that Daniel, a righteous man, did not pray, "Lord, they have sinned," but he identified corporately with his people by confessing, "WE have sinned."
Therefore "Identificational Repentance" is prayer that identifies with and confesses the corporate sins of a person's family, people group, church or nation because gross national sins especially impede healing and revival. God responds when we humbly pray to acknowledge these sins.
The purpose is to heal the land, according to the promise of 2 Chron. 7: 13-14. 
Quote from 'Healing America's Wounds' by John Dawson:
"We are called to live out the Biblical practice of identificational repentance, a neglected truth that opens the floodgates of revival and brings healing to the nations."
During this worldwide emergency, let us learn to repent of sins even though we may not have been personally responsible for them.
We do this by confessing national sins as ours and repenting on behalf of people when they are unready, blinded or simply unable to do so themselves.
Isn't this exactly what Jesus did for us on the cross? He bore our sins and identified with our griefs even though he was without sin.
Amen and Amen!
Can we cry out tonight that we repent on behalf of the blood from the millions of abortions that has defiled our lands?
Can we cry out tonight that we repent on behalf of the state of Massachusetts?   Even though hospitals in Massachusetts are ordered to cancel any "nonessential, elective invasive procedure" to free up resources for the fight against the spread of the coronavirus epidemic, abortions will continue as before.
Can we cry out tonight that we repent for many of our nations having tampered with the institution of marriage, something sacred in God's eyes?
As God is shaking our national idols, can we repent of them?
There is hope, my friends, when we return to the Lord!