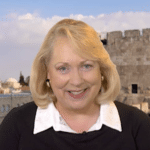 By Christine Darg
Jerusalem Channel
     I stand amazed at the divine protection of God in my life and in the lives of all Spirit-led believers!
     At this point in time, with manifold regulations in place due to Covid, the only way for my husband and myself to gain re-entry to the very tightly controlled nation of Israel was to recover from the virus and to gain natural immunity/recovery certificates! And voila!— in the Providence of God we both tested positive with the Delta variant at the end of our recent journey to the nation of Jordan.  In Aqaba, we were hedged into a quarantine by God, and there was no way forward until we both simultaneously received negative lab reports. Which mercifully happened!
     Romans 8: 28 declares that "all things work together for good" –for everybody? No, not for everybody. The verse is specific:
"And we know that all things work together for good to those who love God, to those who are the called according to His purpose." [emphases mine]
Meanwhile,
"Reckon it nothing but joy… whenever you find yourself hedged in by the various trials, be assured that the testing of your faith leads to power of endurance." (James 1:2-3, Weymouth)
     My favourite devotional, "Streams in the Desert," observed,
"God hedges in His own that He may preserve them, but oftentimes they only see the wrong side of the hedge, and so they misunderstand His dealings.  Ah, but Satan knew the value of that hedge for Job! (Job 1:10.) Through the leaves of every trial chinks of light shine through.  The words that hurt you, the letter which gave you pain, the cruel wound of your dearest friend, shortness of money — are all known to Him, who sympathizes as none else can. He watches to see if you will dare to trust Him wholly."
     Let us have the presence of mind to thank God for his sovereign hedges of protection in our lives, hemming us in, protecting us from certain paths or actions. Thus Satan complained to God in Job 1: 10,
"You have always put a hedge of protection around him and his home and his property. You have made him prosper in everything he does."
     The Bible commentaries teach:
1. That the protection God gives to His people and servants is the vexation of Satan.
2. That Satan, the father of lies, sometimes speaks truth for his own advantage.
3. That the people and servants of God dwell in the midst of enemies and dangers.
4. However, God Himself undertakes the guarding and protection of His people.
5. God's supernatural hedge of protection surrounds a believer and his or her household, in fact surrounding everything that he or she has.