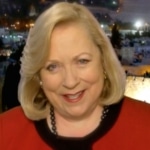 By Christine Darg, Jerusalem Channel
The saddest day on the Hebrew calendar is known as Tisha B'Av, the 9th day of the month of Av, when Israel lost its central national shrine, the holy Temple, twice on the same day 490 years apart!
The cold-blooded murder of millions of Jews and their exile, persecutions and pogroms, to the four corners of the world, are mourned on this day.
Yet Zechariah the prophet predicted this day of mourning will be turned to joy! For many decades, I've believed that part of the prophesied miraculous turning to joy will be facilitated when Christians humble ourselves and repent for the many atrocities that have been committed against Jews by Christendom.
We watchmen upon Jerusalem's walls are living in special times of the restoration of all things.
Yet it is "no secret or surprise," says Bob O'Dell, co-founder of Root Source, "that relations between Christians and Jews have not been good, to say the least, for close to 2,000 years."
While some Christians know that Christians have been guilty of antisemitism over these centuries, almost none know the full extent of the persecution against Jews.
Bob O'Dell with cooperation from the Jerusalem Channel is asking Christians worldwide: Will You Stand With The Jewish People in This Critical Hour?
Today, you can join Root Source's initiative. It is an organization dedicated to building relationships between Jews and Christians based on trust and knowledge. The repentance initiative is set to coincide with Tisha B'Av, the 9th day of the Hebrew month of Av, July 22, the day Jews remember all the horrors of the loss of their temples and countless persecutions and pogroms.
Join thousands of Christians who will examine a list of these atrocities — many hundreds of them! — and declare robust repentance for these tragic actions often carried out in the name of Christ.
Will You Sign This Declaration of Repentance?
"We the undersigned recognize the long and horrific history of antisemitic atrocities committed against Jews in the name of Christ. We repent for these actions, pray to God to continue turning the hearts of Christians to true love for His Chosen People, and submit this declaration to the representative of Israel and the Jewish People."
You may sign by clicking this link, and then you will receive a list of historical atrocities committed against Jews in the name of Christ. You will join a worldwide group of Christians who will repent on Tisha B'Av, this July 22. A scroll of names will be presented to the Israel leaders.
Your name will be included in the list of signatories that we will present to the Speaker of the Knesset and other religious leaders of Israel as part of the observance of Tisha B'Av.