Oh God, save Israel from all his oppressors! ~Psalm 25: 22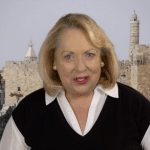 By Christine Darg
Jerusalem Channel
Because of the worst attack in modern history on Israel since the Holocaust there have been many calls on churches to dedicate services to pray for Israel, the people of the Bible. We must help Israel survive when Satan comes in like a flood. Isaiah 59: 19 says the Lord will raise up a standard against him.
As my friend Malcolm Hedding, board member of the International Christian Embassy Jerusalem (ICEJ), stated this week, "For near on half a century now Jesus has raised up millions of Christians who understand Israel's role in God's purpose of world redemption and who have come to her side in love and comfort because they know that her modern day restoration is not an accident of history but rather evidence of God's faithfulness to His covenant made with Abraham 4000 years ago."
It is this remarkable company of believers that must now step forward like David to take down Goliath with intercession. In fact, the ICEJ has called for continuous sequential Esther fasts globally. Hedding exhorted, "We have been called for this hour and let us arise to the challenge and trust God to help us all to be faithful."
Among the army of volunteers is a group of Christians from a disaster relief organization based in Texas who have travelled thousands of miles to come to help the Jewish people in their hour of need. Faced with this simple human decency,—among people who really do understand the difference between good and evil, tears flowed again—tears of gratitude that someone cared.
A significant gesture of help came from the Pope's representative in the Holy Land, Cardinal Pierbattista Pizzaballa, the Patriarch of Jerusalem, who said on Monday he is willing to exchange himself for Israeli children taken hostage by Hamas and held in Gaza. "I am ready for an exchange, anything, if this can lead to freedom, to bring the children home. No problem. There is total willingness on my part," he said. We have met this cardinal and know him to be a Hebrew scholar.
So many of my friends have children in this battle. Let us continue to pray for the ministry of angels to accompany them.
IDF soldiers entering Gaza can expect to come up against terrorists appearing from tunnels and buildings, firing shoulder-fired missiles, sniper rifles, mortar shells and other weaponry that has been mass produced in Gaza with Iranian funding or smuggled into Gaza with Iranian assistance.
The IDF has been training for this type of urban warfare based on the concept of the 360-degree threat, in which enemies can appear from any direction, including from ABOVE and BELOW. This level of warfare makes me think of the Shield of St. Patrick:
Christ [Messiah] with me,
Christ before me,
Christ behind me,
Christ in me,
Christ beneath me,
Christ above me,
Christ on my right,
Christ on my left, etc.

Maj. Guy Madar, a former Givati deputy battalion commander and a key planner of war exercises, has stated, "When the IDF enter the combat arena, they could have enemies under their feet. And they need to look up too. The enemy is not naïve. It wants to try its own surprises against us. Those who will win are those who act with cunning and creativity. It will be those who know how to think differently."
God have mercy on every peace-loving Gazan: may the Almighty send angels to rescue the hostages as in Bible days, and may he vindicate his holy Name against the blasphemers of Psalm 83.
Support the work of Christine Darg and The Jerusalem Channel @ www.JerusalemChannel.TV