https://www.youtube.com/watch?v=WsDU-XjfdBY
A 28 year-old Saudi woman has decided to follow Jesus after she was convinced by a Lebanese coworker to seek the truth. The Saudi woman is named Mariam and has left Saudi Arabia. Her Lebanese co-worker along with a Saudi man reportedly helped Mariam to escape to Bahrain and then to Lebanon. The family of the woman is also reportedly taking legal action, accusing parties of misleading and deceiving their daughter.
Mariam appeared in this video on a YouTube channel talking about how God had revealed to her that Christianity is the way.  After asking God for a dream, she said, "Within a week God showed me that Jesus is his son. I want to tell you something: If you are uncertain about your religion, if you feel lost, ask God to guide you, and he will."
The video shows Mariam speaking with another Muslim Background Believer in Jesus. Saudi Twitter users have created hashtags to talk about it.
Many Saudis are angry and blaming mixed working environment, or blaming her parents. Others have accused her of being a Shiite.  Some Saudis wrote on Twitter that they demand the Saudi government drag her back to Saudi Arabia and charge her with the crime of apostasy. Choosing a different religion is considered a crime in Saudi Arabia punishable by death.
Mariam is not the first Saudi woman who has decided to follow Jesus. Fatima Al Mutairi is believed to have been murdered by her Muslim brother in 2008. Very few Saudis know about Fatima Al Mutairi.  The website where Fatimah use to write is blocked.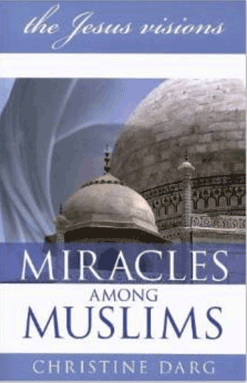 Pray for more Muslims, and especially the misguided militants, to have an encounter with the risen Lord!  Christine Darg's book, "Miracles Among Muslims" is a "must read" and can be obtained at this link.  Christine's book will continue to inspire you with the knowledge that God is not standing by idly, but he is moving mightily through the divine agencies of dreams and visions in the Mideast and elsewhere.
INTERCESSORS: pray for Mariam's protection and spiritual growth. And continue to remind God in prayer of his sure promise:
In the last days, God says, I will pour out my Spirit on all people. Your sons and daughters will prophesy, your young men will see visions, your old men will dream dreams. (Acts 2: 17)