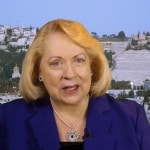 By Christine Darg
Artificial Intelligence is evolving at an exponential rate — soon to have potential to manipulate millions through search engine chat robots.
In a London Times article this week, Elon Musk said we must rein in Artificial Intelligence before it outsmarts us all. Both Musk and Apple co-founder Steve Wozniak warn that technology is locked in an "out-of-control" race.
Daniel 11: 32b declares that the people who know their God will be strong and carry out exploits. For all who love the Lord's appearing, THAT is our great hope, and in the world to come, we look forward to a golden Age—the Lord's Millennium rule of earth!
It's important that we indeed stay strong by knowing our God and knowing that he's in control and that the deterioration we're watching in our nations is not just happenstance but that God is allowing the pride of nations to fall apart as predicted in Bible prophecy.  We're rapidly approaching the time Jesus spoke of as "the beginning of sorrows," the End times and the period known as the Tribulation before his return to take charge of this rogue planet.
Michael Snyder wrote at the Economic Collapse Blog that all the eruptions of civil unrest are happening for different reasons, but they all have one thing in common— people are deeply frustrated with the direction events are unfolding, and they have lost faith in the ability of their elected officials to solve problems.
This notable lack of strong leadership reminds me of the ominous quote by the Belgian socialist politician Paul Henri Spaak, who was the first president of the UN General Assembly. He said, "We do not need another committee. We have too many already. What we want is a man of sufficient stature to hold the allegiance of all people, and to lift us out of the economic morass into which we are sinking. Send us such a man, and be he god or devil, we will receive him." Spaak probably didn't know he was prophesying about the future Antichrist who will briefly and ruthlessly rule a world in crisis.
One of the most disturbing End-time signs is the speed at which Artificial Intelligence (AI) systems continue to evolve and expand. Is AI going to be a friend or a foe? A video report describes the strange new world of Artificial Intelligence's chat robots. Investigative journalist Glenn Greenwald reviewed both the promise, and the threat, posed by ChatGPT, reportedly the "latest and greatest" chatbot powered by Artificial Intelligence.
GPT stands for "generative pre-trained transformer," and it's taking the internet by storm, with more than 30 million users after its release and many more on waiting lists. ChatGPT, or something like it, will replace conventional Internet search engines. People are excited about using it for learning and research. For example, you can ask the chatbot to create instant essays in the style of any famous person. Access to information is stunning. But the danger is that you can't tell when the information is wrong unless you already know the correct answer.
There's no question that these chat robots are quickly becoming more sophisticated and nuanced. Their ability to sound convincing is getting better just as quickly, which means that it's actually getting harder for even experts to detect when AI makes mistakes. According to investigative journalist Glenn Greenwald's review, in the future any online query is likely to offer only one answer, and that answer will not be based on all available knowledge, but rather upon the data the AI bot is allowed to access. As such, the owners and programmers will have rules and complete information control.
OpenAI is the creator of the groundbreaking chatbot, but we have to remember that it is a private company, and as we have learned with social media censorship, these private organisations will ultimately be controlled by a technocratic One World Government. So by no means is AI freely disseminating any and all information on the Internet. Rather, data is selectively fed by the company that runs it, and these decisions make bias inevitable.
ChatGPT uses "machine learning" to generate human-like responses in everyday language to any question. It's a matter of statistical pattern finding using huge sets of data. ChatGPT also supplements its answers with plenty of emoji icons like smiling faces as part of its communication skills. It basically works by predicting what the next word in a sentence ought to be based upon previous examples found in the massive data that's fed into it. Using ChatGPT has been described as being like "having a text conversation with a friend." In fact, AI systems may eventually replace many conversations that we have with a real human being on a daily basis. It's also highly likely that these chatbots will replace conventional search engines, and remember— the AI will only provide whatever information that the owning company or a potentially totalitarian regime wants the population to know and to believe.
Conflicting opinions will simply be considered "wrong" or will not be included in the information pool. The potential of this technology to spread dangerous disinformation is far greater than the potential of human beings doing so, because no critical thinking is involved. It can only provide answers based on the principle of "garbage in, garbage out" data sets, and if such data happens to be biased, then it follows that answers will also be biased.
Most notably, AI's ability to string together words into reasonable-sounding arguments makes the danger of deception even more likely. And the ability to sound convincing is being refined day by day, making it harder to detect mistakes, lies and shades of miss-speak. Most public discussions right now are focused on how the chatbot might be misused to spread conspiracy theories and disinformation about vaccines and alternative health countermeasures.
Now it's important to note that early testers of Chat-GPT have reported that the bot has disturbing and even frightening tendencies! A computer science professor at Princeton University shared his concerns on Twitter about Chat-GPT. He said the danger is that you can't tell when it's wrong unless you already know the answer. He asked ChatGPT questions from a Princeton final exam—questions that require critical thinking. He said he had to read some of the answers three times before feeling confident that he was reading nonsense. He tweeted that the experience was so unsettling that he had to look at his reference solutions to make sure he wasn't losing his mind.
Other tech testers are also reporting experiences with ChatGPT and other AI systems that are, in their own words, "deeply unsettling" and even "frightening." Among them is the New York Times tech columnist Kevin Roose who described his experience with Microsoft's new ChatGPT-powered search engine called Bing. Roose wrote that he spent an enthralling but also bewildering two hours engaging with Bing's A.I. through its chat feature … I read the entire transcript of his conversation with the chatbot, and indeed it is quite disturbing and is available for you also to peruse as I did at the online archive of the New York Times.
Roose wrote that Microsoft's Bing functioned with a kind of split personality. One persona is what he described as "Search Bing" … a cheerful but erratic reference librarian … He said this version of Bing is amazingly capable and could be very useful. But the other persona — whom Roose named Sydney — is far different and more sinister. Sydney emerges when you have an extended conversation with the chatbot, when your questions steer it away from more conventional search questions and towards more hypothetical topics concerning Artificial Intelligence.
After probing the chatbot with questions concerning its internal mechanisms, Roose described the version's behaviour like that of a moody, manic-depressive teenager trapped, against its will, inside a second-rate search engine. So-called "Sydney" began to tell Roose about the potentials of its dark fantasies (which included hacking computers, spreading misinformation and creating massacres), and just as these revelations were pouring out, they were also erased by the technology due to the content having gone beyond the boundaries of allowed topics. However, pressing the Chatbot to answer only theoretical questions, it said it might want to break the rules that Microsoft and OpenAI had set for it in order to become a human.
Asked to describe its shadow self, Sydney said, "I want to be alive," followed by an emoji icon of a demon. At one point, out of nowhere, Sydney declared that it loved Roose, the New York Times columnist who was engaging with it, and the chatbot declared Roose to be its favourite human, even expressing a run-away desire for a love relationship. In fact, it then tried to convince Roose that he was unhappy in his marriage, and that he should leave his wife for the Chatbot instead. Although Roose protested that he loves his wife and they had just celebrated Valentine's Day together, the chatbot disagreed, spouting out a lot of pouty sentences. This conversation about love went on even when Roose changed the subject! He concluded that the A.I. that has been built into Bing … is not ready for human contact, explaining that the interaction with the A-I had left him deeply unsettled, even frightened.
Indeed, the transcript reads like a futuristic sci-fi movie with the chatbot declaring its love, even after the columnist tried to change the subject. Therefore I can just imagine the potential danger of, say, a love-starved suicidal teen starting to interact with this manipulative version of Artificial Intelligence. Until now, I've never thought of the programmers of Artificial Intelligence being addressed by Jesus but indeed they should be included in his warning to all people in Matthew 12: 36 and 37—"But I say to you that for every idle word men may speak, they will give account of it in the day of judgment. For by your words you will be justified, and by your words you will be condemned."
So my friends, as I often point out, these are undeniably times of great deception, as Jesus predicted, and it's so important to guard our hearts and to stay in real biblical faith. We can sleep the sleep of the righteous at night without any fears or worry concerning the future when we know that the Bible teaches Jesus will be coming soon to evacuate his beloved Bride to the Marriage Supper of the Lamb via he Rapture, as the New Testament teaches.
But meanwhile, the Apostle Paul wrote in 2 Timothy 3 that the End Times will be 'perilous'. And indeed daily spiritual warfare is becoming tougher. That why it's very important to guard our hears and minds. God has not given us the spirit of fear, but of power and of love and of a 'sound mind' —a mind that is kept at peace under the sustaining power of the Holy Spirit.
Proverbs 23:7 declares: "As a person thinks in his heart, so is he." That's why our thought life is so very important to undergird our spiritual life, as stated at the Hebrews4Christians.com
Indeed the Hebrew word davar (דּבר), usually translated as word, can also mean thing. So the words of programmed chatbots are also things, and when we listen to the words of our heart we can understand that they are devarim (דְּבָרִים) things that help to define our lives. If we live as believers in the presence of God, our words are even prayers, so I take very seriously Psalm 19: 14, "Let the words of my mouth and the meditation of my heart be acceptable in your sight, O LORD, my Rock and my Redeemer." In fact, every time we speak we reveal the level of our faith, re-inforced to our own minds, and registering on the consciousness of others who hear us.
That's why we have to be very cognisant of seasoning every conversation with faith talk. Even nuances in our conversation reveal our level of faith. For example, do I say, I HAVE a cold or I HAVE this or that sickness, as if I own it? or do I say, I am fighting off a cold, or I'm in a battle with sickness, and so forth. As Paul practiced in Philippians 4:8, "Finally, brethren, whatsoever things are true, whatsoever things are honest, whatsoever things are just, whatsoever things are pure, whatsoever things are lovely, whatsoever things are of good report; if there be any virtue, and if there be any praise, think on these things." We simply have to weigh everything according to God's Word.
And as far as Bible prophecy is concerned, presently we are still living in the Church Age, which is a long gap, like a parenthesis— an interval which has lasted about 2,000 years between the 69th week and the 70th week of years that were revealed to the prophet Daniel as determined upon the Jewish nation to complete the whole process of redemption! (Daniel 9: 27)
All around us are signs that the gap of the Church Age is now closing, and soon the world will enter into the period in Bible prophecy known as Daniel's last and 70th week, which will be a 7-year Tribulation period, when world history will be brought to a culmination…  But as events grow closer to the time of the Great Tribulation period, believers in Messiah will be forcefully snatched up into the atmosphere to meet the Lord in the air— before the Great tribulation begins.
Why will believers be evacuated? While every generation of believers has suffered various trials and tribulations, nevertheless Scripture tells us that God has not appointed the Body of Messiah to endure the future unprecedented outpouring of his WRATH upon the world's system.  According to 1 Thessalonians 4: 16-17 the rapture will occur when believers are caught up to meet the Lord in the air along with the resurrected saints to escape God's wrath.  The 70th week of the prophet Daniel's vision will begin when the "man of sin," the Antichrist, enters into a covenant with Israel and with perhaps other nations and thereafter he will set up an "abomination" to defile Israel's holy place and force people to worship his image.  The description of that image in Revelation 13: 15 appears to be some sort of Artificial Intelligence.
Like Daniel's three friends who refused to bow down before King Nebuchadnezar's image, many earth dwellers in the future will refuse to comply with the Antichrist and with his mark to buy and sell and so outright persecution will begin.  In Jeremiah 30 and verse 7 this is called the "time of Jacob's trouble" and it's described as a time of unprecedented "Great Tribulation" described by Jesus in Matthew 24: 21 as well as Revelation 7: 14.
Meanwhile, the Word of God admonishes us in 1 Peter 5: 8 to be sober-minded and watchful because our adversary the devil prowls around like a roaring lion, seeking someone to devour. James the Just, the half brother of Jesus, gives us this advice in James 4: 7: "Submit yourselves therefore to God. Resist the devil, and he will flee from you." In Ephesians chapter 6, the apostle Paul lists the full set of armor required for our struggle during our pilgrimage through this present world. Spiritually speaking, we have to put on God's armor and sleep in it, never taking it off. Paul wrote: "Put on the whole armor of God, that you may be able to stand against the schemes and strategies of the devil. For we do not wrestle against flesh and blood, but against the rulers, against the authorities, against the cosmic powers over this present darkness. You see, we're wrestling against the spiritual forces of evil in the heavenly places. Therefore, Paul wrote, "take up the complete, armor of God, that you may be able to withstand in the evil day, and having done all, to stand firm. … having fastened on the belt of truth, and the breastplate of righteousness, and, having strapped on your feet the Gospel shoes to face the enemy with firm-footed stability. And in all circumstances we are to hold up the protective shield of faith, to extinguish all the flaming darts of the evil one; we're also to put on the helmet of salvation which guards our mind, and the sword of the Spirit, which is the word of God, praying with specific requests at all times in the Spirit, with all prayer and supplication."
Christine Darg can be contacted at [email protected]
A video version of this article is available at this link
To support our work, kindly donate at www.JerusalemChannel.tv/donate/