By Christine Darg
"When Pentecost, [Shavuot/Festival of Weeks, the fiftieth day after Passover], came, all the believers were together in one place." (Acts 2: 1)
"Then there appeared to them divided tongues, as of fire. . . And they were all filled with the Holy Spirit." (Acts 2: 3-4)
It was not a bonfire that fell from Heaven in the Upper Room, but divided, separate flames, when the day of Pentecost (Festival of Weeks) had fully come 50 days after Passover.
The fire of God fell in Jerusalem to empower believers to take the Gospel to the nations.
Leviticus in the Torah calls this harvest festival "Weeks" because it falls seven weeks after Passover, and "Pentecost" is a word based upon the 50 days rounding out those weeks.
Jesus ascended to Heaven 40 days into that time period, and he told the disciples to wait in Jerusalem for power to fulfil the Great Commission. Ten days later, as they waited by faith, Shavuot came fully at 9 o'clock in the morning, and the fire of God fell right on God's schedule and calendar.
The church needs to get back onto God's calendar.
Part of End-Time Revival is understanding what time it is prophetically.
We still have the power of God to help us when we yield to God's Holy Spirit!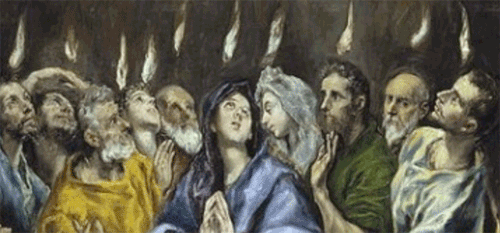 Most religous art of Heaven's fire falling in Jerusalem at Shavuot/Pentecost gets it right–individual flames painted upon each individual head.
When my mentor Reinhard Bonnke teaches on Pentecost, he exclaims, "Your flame has your own name!"
This is because each disciple received separate, divided tongues of fire sitting and glowing upon his and her heads.
Present in the Upper Room were 120 believers, including the Lord's mother Mary. Each flame was different. Mary's flame was different from Peter's. Peter's flame was different from John's, and so forth.
They were all Tailor-made flames.
Some tongues of fire were perhaps larger or more intense; some flames were perhaps smaller; some were quite possibly different colours. We are not clones, but our power is from the same source–the very Fire of God.
And as Reinhard Bonnke also says, the Holy Spirit does not come in percentages because He is a Person. He makes each believer's anointing to be individual through His Presence.
Just as you would not be comfortable with my flame–it "would not fit–" so I would be uncomfortable with your flame, or anybody else's.
Therefore I don't covet another's flame. I only want my own! Nobody would be comfortable with my flame (empowerment for service), and your flame (your empowerment for service) would be very uncomfortable for me.
Isn't this thought about separate flames wonderfully true and liberating?
If you have been baptized in the Holy Spirit, enjoy your flame. Enjoy the Presence of the Holy Spirit. HalleluYAH!