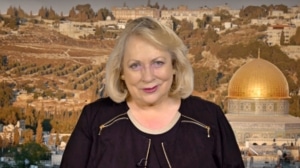 By Christine Darg
Jerusalem Channel
Oh, how I love the Word of God! It is the foundation of my daily life!
Shabbat's Torah portion restarts the reading cycle all over again with the Book of Genesis. This is because the Bible is never mastered by any of us. Year after year we receive more revelation as we read, study and meditate on the Word, but we will never ever completely master it, although it should master us.
According to Intercessors for Israel, the most vital and foundational verse in all of the Word is Genesis 1:1. If it were not there, and if it were not true, then the rest of the Bible would not have a solid foundation. After all, if God is not the Creator – then He is not God and He cannot do what He has promised. Progressive revelation in scripture depends on what has been revealed before–Genesis 1:1's revelation which opens the Bible gives a solid theological footing to all that follows.
We bless the Almighty for still being deeply involved with creation (Psalms 136:23-26; 147:9).
I might also argue of course that the most vital and foundational verse in all of the Word is John 3: 16:
"For God so loved the world, that he gave his only begotten Son, that whosoever believeth in him should not perish, but have everlasting life."
I recently read the testimony of a man of God who was saved 30 years ago as an alcoholic and a lost soul when he discovered a Gideon's Bible but he didn't know how to read the Bible or where to begin. But then he remembered that he used to see a man standing in the bleachers at football games holding up a sign saying "John 3: 16," and so he read John 3: 16 and received eternal life!
It is important to become deeply involved in God's Word. We should have personal histories with certain verses that the Holy Spirit has enlighten to us.
A verse that serves to strengthen me whenever it comes to mind  is 1 Thessalonians 5: 23:
Now may the God of peace Himself sanctify you through and through [that is, separate you from profane and vulgar things, make you pure and whole and undamaged—consecrated to Him—set apart for His purpose]; and may your spirit and soul and body be kept complete and [be found] blameless at the coming of our Lord Jesus Christ. [Amplified]
This verse has always meant a great deal to me personally to sustain my faith, and it's one that I memorized years ago as a rhema word when it was quickened to me. It is a blessed hope to believe that one could be kept by the Lord in divine health– spirit, soul and body until the "coming" [παρουσίᾳ parousia, appearing, divine presence) a reference by Paul to the rapture, the great snatch, the sudden translation of the living saints along with the dead in Messiah into the clouds [the "harpazo"].
There are many ministers of God to whom I am indebted for revelation knowledge concerning divine health including Derek Prince of blessed memory and many others through their writings such as Watchman Nee and Andrew Murray.
A minister in my generation whose faith I admired and whose faith sharpened mine was Pastor Thurman Scrivner, a plain-talking Texas preacher. I have listened for hours upon hours to Pastor Thurman's preaching to keep my faith sharpened.
Many nights in the night watches I listened to Pastor Thurman. But as is the way of all flesh until Jesus returns, Thurman died this week at age 82. I have known few persons who have contended for the faith (Jude 1:3), especially the healing arm of the Cross,  like Pastor Thurman contended. On a Richter scale of faith, his was exceedingly high and bold, but at his death in a hospice, I have to say what the Jewish people say whenever anybody dies– Blessed Be the True Judge–in other words, we don't question God about why a person dies or how they died. God is sovereign. God knows things we don't. He decides how each of us will die or if we will participate in the Rapture, and the Lord is always dealing with us, sanctifying us until our last breath.
Upon hearing of Thurman's demise, I'd like to say with Moses in Psalm 90: 12,
"So teach us to number our days, that we may gain a heart of wisdom."
I wish that energetic Pastor Thurman had just climbed some stairs and jumped to glory, which is the way my beloved prayer partner Shirley Hughes recently collapsed and died. No sick bed for Shirley, no long illness, HalleluYah, but Thurman apparently died on a bed of sickness. The Lord often teaches us something about himself in such circumstances, usually about our own weakness. He also teaches us about the love and mercy of those who care for the sick. We learn to bless them for their sacrificial service.
Psalm 41: 3 declares,
"The LORD will strengthen him upon the bed of languishing: thou wilt make all his bed in his sickness."
I thank God for Thurman's life.
I'd also wished that my exceptionally great healing mentor Reinhard Bonnke had just sighed and died without becoming sick with cancer. However, despite these sometimes mysterious disappointments when faith giants die in a sick bed, I nevertheless want to affirm my undying belief in divine healing.
I have been healed by the Lord's mercy so many times. Divine health is an even better state than divine healing. My spirit refuses unbelief. This is not a time to fall into unbelief! I'd like to confess John 6: 68 along with Simon Peter,
"Lord, to whom would we go? You have the words of eternal life."

Also Psalm 5: 3,
"My voice shalt thou hear in the morning, O LORD; in the morning will I direct my prayer unto thee, and will look up."
I'd like to reaffirm that all things are possible to those who believe.
Jesus replied in John 11:40,
"Did I not tell you that if you believed, you would see the glory of God?"
Psalm 55: 22,
"Cast thy burden upon the LORD, and he shall sustain thee [i.e. take care of you]: he shall never suffer the righteous to be moved."
Maranatha, even so come Lord Jesus!