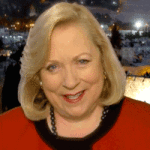 By Christine Darg, Jerusalem Channel
Father Gabriel Naddaf, the brave Orthodox Christian priest who heads the "Christian Empowerment Council" (CEC) in Nazareth, hosted his annual Christmas event tonight to bring together hundreds of Jewish, Christian, Druse and Muslims who support the state of Israel.
Diverse representatives of Israel's Arab community participated in the event, hailed by many as "historic," as well as numerous Israeli Jews and representatives of Christian ministries.
Prime Minister Benjamin Netanyahu, who has previously addressed Father Naddaf's Christmas Congress in person, delivered warm greetings by video.
Also tonight Justice Minister Ayelet Shaked expressed thanks and solidarity in person.
The event culminated with the singing of "Hatikva," the Israeli national anthem, but the loudest applause was in recognition of the growing number of Christian Israeli Arabs who are enlisting in the Israel Defence Forces (IDF).
Many of these brave young men and women were in attendance in uniform.
Father Naddaf delivered inspiring remarks that encouraged the Israelis. As columnist Jonathan Feldstein noted, "This is how we do peace and coexistence. . . . pray that this is our future."
"Father Gabriel Naddaf is a true hero for unifying Jews and Christians," commented Avi Likpin, leader of the Bible Bloc Party, "as we are indeed the 'People of the Book.' We have much work to do together to bring Jews and Christians together in Israel, the only country in the Middle East where Jews and Christians are truly blessed and protected."
"On behalf of Father Gabriel Naddaf and the Israeli Christian Recruitment Forum," said CEC's Media Director Tal E. Ben-Shlomo, "I would like to welcome you to Nazareth and thank you for your participation in our annual Christmas event."
Along with Amit Barak and Jonathan Elkhoury, the Israeli team of volunteers are committed to the integration of indigenous Christians into Israeli society.
"This is perceived by many as nothing less than the most important Zionist movement within the Israeli public since the state of Israel was established," said Ben-Shlomo. He has been assisting Father Gabriel on a voluntary basis since 2014, in particular in media and international outreach fields.
"Through my experience of encounter and endless discussions with hundreds of Zionist activists from Israel and abroad– Jews, Christians and Muslims alike– I would like to share with you my humble point of view regarding Israeli outreach, which at its present state I find insufficient and partially wrong. I beg to differ and suggest how one can truly leave a mark and make an impact in public opinion.
"I address you as a non-observant Jewish person who nevertheless acknowledges his Jewish heritage, and therefore I cherish the Judeo-Christian ethic as the core soul of the Western society," Ben-Shlomo said in his prepared remarks.
"This Judeo-Christian background we share is what brings us, the tiny Jewish nation and the vast Christian world together, under the Zionist idea."
Furthermore, Ben-Shlomo said, a Zionist is "someone who acknowledges the INDIGENOUS rights of the Jews over the land of Israel, as it is perceived in endless examples through both scriptures and historic evidence."
"I therefore urge you to remember this fact and to use it wisely in every argument," Ben-Shlomo stressed. "Do not fall into the 'Who is an AntiSemite' argument. This is just a smeared and empty expression sadly used today as it has always been, by some of the worst enemies of the Zionist idea — none other than radical Jews. Even one of our prophets noted this conduct. In Isaiah 49:17, it reads: 'those who laid you waste –depart from you.' So instead of falling into this baseless argument when confronting your opponent, seek to contest 'Who is a Zionist?' For any reasonable person who believes in Western values and human rights must be a Zionist. For if he is not a Zionist, he therefore discriminates the indigenous rights of one particular nation, despite a vast amount of evidence. And a person who denies the indigenous rights of one nation, cannot make indigenous claims on behalf of other nations, in particular on behalf of a 'nation' invented as part of a political game."
Jonathan Elkhoury, one of the evening's speakers, advocates for the CEC in Israel. His Lebanese family fled from the Lebanese terror group Hezbollah's rule in Lebanon. He believes that Israeli Christians should speak out about their positive experiences as minorities in the Jewish state.
"The Christian society is one of the successful minorities in Israel," says Elkhoury. "There are people in high positions in education, in hospitals, courts – everywhere you look you will find a Christian in a high position. They are a quiet yet successful community, and they are not speaking out enough."
The Jewish Israelis in attendance wished the Christian Israelis "a Merry Christmas and Happy New Year."
Father Naddaf's event created an atmosphere of mutual trust and respect that is cutting edge and truly prophetic.
One of the Israeli Orthodox Jews in attendance summed up the event in Hebrew with Psalm 133: 1, "Behold, how good and how pleasant it is for brethren to dwell together in unity!"