"Then he shall confirm a covenant with many for one week; But in the middle of the week He shall bring an end to sacrifice and offering. And on the wing of abominations shall be one who makes desolate, Even until the consummation, which is determined, Is poured out on the desolate." Daniel : 27
By Christine Darg, Jerusalem Channel
Is Bible prophecy about peace and the End-times unfolding before our eyes with Trump's "Deal of the Century?" If so, the new peace plan is another indicator that the Rapture and the Second Coming are even closer than they were before.
According to Daniel 9: 27 a covenant will be confirmed for seven years and in the middle (when the temple has been rebuilt) the covenant will be broken. Is President Trump's "Deal of the Century" announced today the beginnings of that peace plan—or is it a harbinger of the covenant that will be eventually confirmed (made strong) in the future? Quite possibly.
Israeli Politician Dr. Rafael Minnes was quoted by Breaking Israel News as saying that Trump's peace deal is akin to the decree of King Cuyrus and paves the way for the building of a third temple in Jerusalem—which eschatologists know is one of the signs of the Last Days.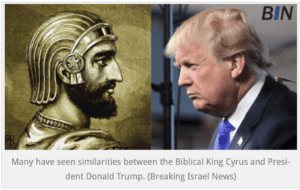 According to Dr. Minnes, Trump's deal is akin to King Cyrus' proclamation because "both are non-Jewish political figures who advance the divine plan incumbent upon the Jewish nation." He said, I have always called to apply Israeli sovereignty on all the land of Israel, including all Judea and Samaria, and this has always encountered fierce opposition. We can't expect the President of the United States to propose an offer that no Israeli government, in fact, no party in the Knesset, has ever proposed. In fact, in his actions until now in the last meeting, the President has been revealed to be a greater advocate of this than the Prime Minister of Israel. Trump offered to apply sovereignty to all Judah and Samaria, which Bibi did not even consider."
Trump was adamant saying that Jerusalem would remain undivided. Interesting that his plan will give the Palestinians four years to decide on accepting the territory designated for a two-state solution. That gives some wiggle room for prophecy watchers.
The "Hardened Heart Syndrome" was once again manifested in Mahmoud Abbas, who rejected the plan with a thousand times "NO."  But Trump holds out hope that the Palestinians will come around. Other Arab nations are applauding the plan and even some Arab ambassadors attended the historic announcement at the White House today.
Trump claims his plan is different from past proposals and that it's a "win-win" for everybody, proposing two states eventually, 
adding that "peace requires compromise but not compromise of Israel's security."
Prime Minister Netanyahu commended Trump for recognizing Jerusalem as Israel's capital and moving the US embassy to Jerusalem, for recognizing the Golan Heights and for 
"getting out of the terrible Tehran nuclear deal." Netanyahu praised Trump for his unparalleled strong leadership when it comes to US relations with Israel: 
"Israel is blessed to have your friendship and strong leadership. The Jewish state owes you an eternal debt of gratitude.  
I understand the magnitude of this moment…I'm prepared with you to seize the moment and change history. . . .I know there will be much criticism, but we have an old Jewish saying, 'If not now– when? And if not us– who?'"
Trump's plan features a map of what Israel's new borders will be, should it enact the plan fully. This is the first time a US president has provided a detailed map of this kind.
Al Quds meaning "The Holy" is an Arabic name for Jerusalem. With a name like Al Quds, Palestinians would be given a capital in east Jerusalem neighborhoods that are outside the Israeli security barrier – Kafr Akab, Abu Dis and half of Shuafat. Otherwise, Trump said "Jerusalem will remain undivided as Israel's capital."
It's important to note that the deal does not include immediate recognition of a Palestinian state; such a state would only come into existence in four years if the Palestinians accept the plan, "if the Palestinian Authority stops paying terrorists and inciting terrorism and if Hamas and Islamic Jihad put down their weapons," according to Trump. In addition, the American plan calls on the Palestinians "to give up corruption, respect human rights, freedom of religion and a free press, so that they don't have a failed state." If those conditions are met, the US will recognize a Palestinian state and implement a massive economic plan consisting of billions of dollars to assist it.
Although Jerusalem would remain undivided, many Bible believers will still have trouble with this "deal of the century." It attempts to bring dignity and hope to all parties involved, nevertheless division of the land is rebuked by God in the Bible. ( Joel 3:2)
It is always healthy to work for peace. The definition of a stopgap is a temporary way of dealing with a problem or satisfying a need. Ultimately, Evangelicals know that only the return of Jesus, the true Prince of Peace and Israel's long-awaited Messiah, will be the Real Deal of the Century. Could Trump's plan be the plan on the table that eventually will be "confirmed" according to Daniel 9: 27? Let us continue to watch and pray!