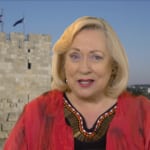 By Christine Darg
Jerusalem Channel
Fresh on the heels of his stellar success at the Singapore Summit, President Donald Trump and his team are once again setting their sights on Mideast peace.
Pray that they will not look upon Jerusalem and Israel as "just any other real estate deal" but that a holy, reverential awe of the Living God will overshadow those who would dare to be part of any negotiations, including the President's son-in-law, Jared Kushner.
According to the AP, the White House says President Trump's Mideast negotiating team will visit the region next week to finalize its as-yet unveiled Israeli-Palestinian peace plan.
The operative word in the headlines is push, which can be prophetically dangerous.
Reportedly talks will be held on deteriorating conditions in the Gaza Strip.
The trip is planned as officials say the Trump Administration is near completion of the plan with an eye on a possible release this summer.
Kushner, along with special representative for international negotiations Jason Greenblatt, would travel to Israel, Egypt and Saudi Arabia to discuss "the next stages of the peace effort" and garner ideas from regional leaders.
Meanwhile, as the United States prepares to present its peace plan, the European Union is nipping at their heels, trying to gain a foothold on the issue, according to Israel Nation News. The reports reveal that Britain is initiating a conference of European and Arab foreign ministers with Kushner, to present their expectations from the U.S. peace plan.
However, as our Jerusalem Channel viewers say, "Mr. President, please don't push Israel to give land for peace because we know what happened the last few times that presidents of the USA tried to push Israel to forfeit Your land for peace. God will punish USA again according to the principle of Genesis 12:3."
Pray these Scriptures and warnings:
Proverbs 16: 1, "We may make our plans, but God has the last word."

2 Chronicles 6: 6, "But I have chosen Jerusalem that my name might be there. . . "

Jeremiah 3: 17, "At that time they shall call Jerusalem the throne of the Lord; and all the nations shall be gathered unto it, to the name of the Lord, to Jerusalem: neither shall they walk any more after the imagination of their evil heart."

Zechariah 12: 3, "But when that time comes, I will make Jerusalem like a heavy stone—any nation that tries to lift it will be hurt."