PRAYER UPDATE FROM ISRAEL 19 DECEMBER 2016 via Martin & Norma Sarvis in Jerusalem
The eight days of Hanukkah begin Saturday evening.
Hanukkah: Saturday evening begins the eight-day Hebrew celebration of the rededication of the Temple in Jerusalem in 164 B.C., after God's deliverance from a terrible pagan oppression in which the Jews had been severely persecuted and the Holy Place defiled (We will have more to say about Hanukkah in next week's Update.)
Christmas: Saturday night will also usher in celebration round the world of the birth in Bethlehem over 2000 years ago of a Saviour from sin for all the children of Adam—Yeshua haMashiach—"Jesus the Anointed One."
It is seldom that these two celebrations coincide in the way that they do this year—Christmas Eve the same evening as the lighting of the first candle for Hanukkah—and the last night of Hanukkah (eight days later) will coincide with New Year's Eve! In fact, this year the entire month of December from the 1st through the 29th coincides exactly with the days of the 9th month in the Hebrew calendar, Kislev.
We pray a restful and joyous holiday season for each of you!
And, as with the days of this month's calendar, may we, Jew and Gentile, walk in agreement (Amos 3:3 in Torah Portion below)–in sync, in perfect timing with what our Lord is doing on the earth during this season!
1. IN TEL AVIV AND JERUSALEM, A HEBREW REQUIEM OF REST, HOPE, JOY AND A FUTURE!
Last spring we wrote of what has become an annual event in Israel, the special presentation of Handel's Messiah in the Hebrew language. We examined how the passages from Isaiah 53 which are at the heart of that great work, verses which so clearly depict the suffering of the Messiah as a sin-bearer for His people, are virtually unknown amongst Israelis. And we presented you with the complete texts of that Oratorio as an aid in interceding over the "seeds" of life-giving truth which had been sown through these performances.
We now present you with another powerful body of life-words, the texts from the great Requiem by Johannes Brahms. They were sung by the Liturgi-Kal Choir conducted by David Loden this week in Tel Aviv and Jerusalem—but in Hebrew, rather than the original German!
"Requiem" means "rest"—and the word is usually associated with the Latin text of the Roman Catholic mass for the souls of the dead. Yet Brahms wrote a completely different sort of composition, one with a text drawn entirely from Scriptures (which the composer himself picked out from the translation in his native German) and arranged to some of the most exalted music of the 19th century. And, unlike the Latin liturgy, which focusses on the dead, and fear of judgment, the Brahms Requiem focuses on comfort, instruction and hope for the living ("Blessed are they who mourn"); on the importance of realizing how transient we are and asking God to help us in numbering our days; of directing our hearts and souls towards the God of Life! Of realizing that the souls of the righteous are in the hands of the Lord ("Blessed are those who die in the LORD"). Of being comforted in bereavement, because there is coming a resurrection—at the sound of the "last shofar" when those living will be changed, the dead will be raised, and Death is swallowed up in Victory!
It is important to realize that most Jews are completely ignorant of the existence of most of these promises. Yet they are drawn by the artistic beauty of the wonderful composition. In years past, we have sat in a hall filled with Israelis pouring over their Hebrew translations as the Requiem is sung in its original German. But now, this week, as with Handel's "Messiah" last spring, some were privileged to be actually hearing this testimony of Life being sung in their own language!
PLEASE PRAY:
* That the "seeds" sown by the performances in Tel Aviv and Jerusalem this week would find fertile soil in the souls of Israelis, would germinate and bear fruit of revelation and faith in the One who has triumphed over death!
* Simply reading through this wonderful compilation of Scripture can be an inspiring and edifying experience for all of us. We print for you below the complete texts from the seven movements. As we read, may the Lord stir in our hearts a prayer that these truths would be revealed to Jews throughout Israel!
Texts for Brahms' Requiem
Blessed are those who mourn, for they shall be comforted. They who sow in tears shall reap in joy. He who goes forth weeping, bearing precious seed, shall doubtless come again with rejoicing, bringing his sheaves with him. (Matthew 5:4; Psalm 126:5-6)
All flesh is as grass, and all the glory of man as the flower of grass; the grass withers and the flowers fall. Be patient, therefore, brothers and sisters, unto the coming of the LORD. See how the farmer waits for the precious fruit of the earth, and waits patiently for it, until he receives autumn and spring rains. But the Word of the Lord endures forever. And the ransomed of the LORD shall return and come to Zion with songs and everlasting joy upon their heads: they shall obtain joy and gladness, and sorrow and sighing shall flee away. (I Peter 1:24; James 5:7; I Peter 1:25; Isaiah 35:10)
Lord, make me to know my end, and what is the measure of my days: that I may realize how transient I am. Look, You have made my days as a handbreadth; and my lifetime is as nothing in Your sight. Surely every man walks about as a shadow image; surely in vain they make an uproar. He heaps up riches, and doesn't know who will gather them. And now LORD, for what do I wait? My hope is in You! The Souls of the righteous are in the hand of God, and no torment shall touch them! (Psalm 39:4-7; Wisdom of Solomon 3:1)
How lovely are your dwelling places, O LORD of Hosts. My Soul longs, yes, even faints for the courts of the LORD. My heart and my flesh cry out for the God of Life! How blessed are those who dwell in Your house, ever singing Your praise! (Psalm 84:1,2,4)
And you now therefore have sorrow; but I will see you again, and your heart shall rejoice, and your joy no man can take from you. You see how for a little while I labor and toil, yet have I found much rest! As one whom his mother comforts, so I shall comfort you. (John 16:22; Ecclesiasticus 51:27; Isaiah 66:13)
For here we have no lasting city, but we seek the city that is to come. Behold, I show you a mystery: We shall not all sleep, but we shall all be changed…in a moment, in the twinkling of an eye, at the last shofar. For the shofar shall sound, and the dead shall be raised incorruptible, and we shall be changed…Then shall be brought to pass the saying that is written, "Death is swallowed up in victory. 'O Death, where is your sting? O grave, where is your victory?
You are worthy, O LORD, to receive glory and honor and power: for You have created all things, and for Your pleasure they are and were created! (Hebrews 13:14; I Corinthians 15:51-52, 54-55; Revelation 4:11)
Blessed are the dead which die in the LORD from henceforth: Yes, says the Spirit, that they may rest from their labours; and their works do follow them. (Revelation 14:13)
2. THE FORMER RAINS CONTINUE!
Thank you for your continued prayers for the Former Rains to fall abundantly over Israel! After the most parched dry season on record, followed by the devastating fires throughout the country three weeks ago, God is blessing Israel with showers. For two days last week, they were again loosed. Over 100 mm of rainfall were recorded in the Galilee and Golan Heights, over 80mm fell over the Sea of Galilee. There is snow on the top of Mount Herman. After so many years of drought, farmers in the Galilee are cautiously optimistic; sprouts are beginning to pop out of the soil. We praise the Lord for His mercies. And believe it pleases Him for us to continue to call for the rains—to pray that the Sea of Galilee (Israel's main water source) will fill up! To pray that Israel will see her need of dependence on Him as the One who is the source of all our life…a Spring of Living Water, the One who sends Showers of Blessing!
THIS WEEK'S TORAH PORTION:
From ancient times there has been a weekly portion (Parashah) from the first five books of Moses (The Torah) and an ending (Haftarah) from the Prophets read on the Sabbath in synagogues around the world. This portion is given a Hebrew name drawn from the opening words of the Torah passage. An illustration of this practice appears to have been recorded in Luke 4:16 where Yeshua (Jesus) arrived in the synagogue in Nazareth and was asked to read the portion (Isaiah 61) from the Prophets. We have found that in perusing these weekly readings, not only are we provided opportunity to identify in the context of God's Word with millions of Jewish people around the world, but very often the Holy Spirit will illumine specific passages pertinent that week in our intercession for the Land and people of Israel. All texts are those of English translations of the Scriptures.
The readings for this week 18-24 December 2016 are called VaYeshev—"And He Settled":
TORAH: Genesis 37:1—40:23
HAFTARAH: Amos 2:6—3:8
This week we begin the story of Joseph and his brothers
*Genesis 37:11. "His brothers were jealous of him [Joseph's prophetic dream], but his father kept the matter in mind" (NKJV). A more literal rendering of the Hebrew might be: "but his father guarded the word." (Luke 2:51 tells how Miriam (Mary) similarly "kept, guarded" the prophetically significant words and occurrences which were taking place with her young son Yeshua).
Both the Torah and Haftarah for this week focus upon God's prophetic gifts for His people, particularly as they are and shall be released upon the godly young (See also Joel 2:28-32). As the Lord returns to Zion with deliverance and an outpouring of His Spirit,
PLEASE PRAY for mature instruction in the prophetic amongst Israelis—when and how to share prophecies and dreams; how to "guard" and save a Word of the LORD until its time comes to fruition; also how to guard against giving place to the flesh which can awaken jealousies towards those who may be more gifted in certain areas than we are.
*Genesis 39:8-9. "But he refused [his master's wife's seductive advances] and said, 'Behold, with me here, my master does not concern himself with anything in the house…he has withheld nothing from me except you, because you are his wife. How then could I do this great evil and sin against God?"
PLEASE PRAY for clean minds and hearts and the Fear of the Lord in believing Israeli youth who are under constant temptation to compromise their integrity and sexual purity. Revelation 14 speaks of 144,000 who will not have defiled themselves. Perhaps there are presently some of that army already alive in the land! If so, the Evil One will of course do all he can to divert them from their destiny. Pray for a new wave of bold and victorious youth and young adults governed by godly integrity—who would like Joseph have hatred of the very thought of sinning against their neighbor and their God.
*Genesis 40:8. "And they said to him, 'We each have had a dream, and there is no interpreter of it.' So Joseph said to them, 'Do not interpretations belong to God? Tell them to me, please.'" Joseph's rhetorical question is answered centuries later by another godly young Hebrew captive, Daniel, "But there is a God in heaven who reveals secrets…" (Daniel 2:28).
*Amos 2:6. "Thus says YHVH, 'For three transgressions of Israel, and for four, I will not turn away its punishment, because they sell the righteous for silver…'" This is the usual reason given for the choice of this passage as the week's Haftarah, the connection being the selling of the righteous Joseph by his brothers to Ishmaelites for twenty shekels of silver (Genesis 37:28). Yet in a strange way, the following verses also make a connection: "A man and his father go in to the same girl, to defile My holy name. They lie down by every altar on clothes taken in pledge…" Genesis 38 relates how a most un-righteous Judah would (unknowingly) go in to the same woman as had his older sons…leaving a signet, cord and staff as pledge.
In this story we see many ways in which the righteous Joseph prefigures Yeshua, the coming Messiah. He here remains pure in the face of temptation, even though it will mean suffering. On the other hand, Judah, through whose seed the Messiah will someday come, is immediately seen as one enslaved to desires of his fallen human nature. God would work sovereignly through even his sinful failures (Judah will, in fact, later acknowledge his unrighteousness—38:26; 44:16), so as to guard the passage of the seed He had promised Abraham, Isaac and Jacob to bless. Over 800 years later, a blessing over Naomi (Ruth 4:12) will be "May your house be like the house of Perez, whom Tamar bore to Judah, because of the offspring which the LORD will give you from this [Ruth] young woman!" That "offspring" would eventuate in David the King…and finally, Yeshua the Hebrew Messiah and Saviour of the World.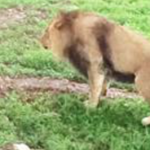 "A Lion has Roared!" The King of Beasts in a Jerusalem Zoo.
Surely the Lord YHVH does nothing, unless He reveals His secret to his servants the prophets.
A lion has roared! Who will not fear? The Lord YHVH has spoken! Who can but prophesy?"
(Amos 3:7-8).
*Amos 2:11-12; 3:7-8. " 'I raised up some of your sons as prophets, and some of your young men as Nazirites. Is it not so, O you children of Israel?' Says the LORD…Surely the Lord YHVH does nothing, unless He reveals His secret to his servants the prophets. A lion has roared! Who will not fear? The Lord YHVH has spoken! Who can but prophesy?"
PLEASE PRAY for the raising up of sons and daughters in Israel who move confidently and soundly in the prophetic giftings. Pray for the restoration of the office of "Prophet" in the Land. Satan hates this—because the spirit of prophecy involves "the testimony of Yeshua" (Revelation 19:10b), and most of Israel is still behind a veil regarding their Messiah. It is this gift and office which brings clarity, understanding, instruction and encouragement to the Body regarding "what the Spirit is saying to the congregations." We rejoice to report that we see this gifting beginning to manifest in a powerful and clean way among Jewish and Arab young adults in the Land. Pray Joel 2:28-32 over this young eager generation:
"…I will pour out My Spirit on all flesh; Your sons and your daughter shall prophesy…For in Mount Zion and in Jerusalem there shall be deliverance, as YHVH has said, among the remnant whom YHWH calls."
Martin & Norma Sarvis
Jerusalem
[The readings for next week (25:31 December 2016) are called MiKetz—"At the End Of". TORAH: Genesis 41:1—44:17; HAFTARAH (Shabbat Hanukkah): Zechariah 2:10—4:7]