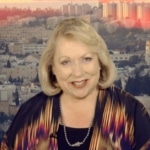 By Christine Darg
Jerusalem Channel
     Every true believer is a pilgrim.
     This past week's Torah portion was the parashat read around the world the year that my husband Peter was born. The portion is called in Hebrew לֶךְ־לְךָ "Lekh-Lekha," meaning "Go forth!"
     The Torah portion begins: "Now the LORD said to Abram, "Go (לֶךְ־לְךָ Lekh-Lekha) from your country and your kindred and your father's house to the land I will show you." (Genesis 12:1)
      My husband's parents left England to "go forth" to immigrate to North America. Peter and I left America to "go forth" to live in Israel, and from there we have "gone forth" to the nations as the Lord has continually led us.
     "By faith Abraham obeyed when he was called to go out to a place that he was to receive as an inheritance, and he went out, not knowing where he was going … for he was looking forward to the city that has foundations, whose designer and builder is God." (Hebrews 11: 8,10)
      According to the
"Hebrew for Christians"
website, the Sefat Emet says every person of faith is commanded daily to
"lekh-lekha,"
to "go for yourself" by crossing over from the world and its deadening habits to live as an exile with God. Paradoxically, we find ourselves when we are willing to lose ourselves – when we leave the labels, roles and identities this world foists upon us and instead resolve to seek God's kingdom. As Yeshua said,
"For whoever will save his life shall lose it, but whoever will lose his life for my sake shall find it."
(Matthew 16:25)
     It never ceases to amaze me how the weekly Torah portions line up with current events. This past week Israel also celebrated Yom Aliya, a new holiday that has begun since the re-establishment of the state of Israel. To make aliya means to "ascend," to return to the Land of the Jews' forefathers, the Promised Land.
     Amazingly, since the start of the virus outbreak, about 40,000 Jews have "gone forth–" they have returned home to Israel. Considering the hardships, the quarantines, and the balagan [that's a Hebrew word for chaos and bureauracy], 40,000 returning to Israel is an amazing corporate exploit. Millions of Jews still live in exile even though God proclaimed that a day will come when not one of His people will remain outside the borders of Israel.
This past week my friend Rabbi Michael Freund also reported in honor of Yom Aliya that many of the so-called "lost tribes" from India have "gone forth" and have returned to the land of their ancient forefathers.
Rabbi Freund wrote, "Today we were blessed to bring 235 Bnei Menashe on Aliya from India in cooperation with the Absorption Ministry and the Jewish Agency. After 2700 years of exile, the Lost Tribe of Manasseh is returning to Zion!
     Intercessors for Israel are asking God to remove from the Jews in the Diaspora all fear of change and replace fear with a love for adventure and an understanding of the privilege of participating in the fulfillment of prophetic history by making aliya, as prophesied in Isaiah Chapter 43 and so many other verses.
Indeed, Israelis living in exile are becoming homesick, and as the anti-Semitic hunters become more violent, many Jews are unable to ignore or misinterpret the signs of the times.
     Here is more commentary on this Torah portion from the Hebrew for Christians website:

I had mentioned that "lekh-lekha" (לך־לך) can be understood as a command to "come to yourself," that is, to turn and reconnect to your spiritual essence, though it can also be understood as a command to "go out of yourself," that is, to escape from the bondage of your carnal ego… This corresponds to teaching in the New Testament where we are commanded to both "put on" our new spiritual identity as God's beloved, and to "put off" the old self by being revived in our minds (Eph. 4:22-24). Both "movements" are the heart are necessary: we must turn to the Lord and receive his blessing (the inward), and we must turn away from what has previously defined us (the outward). We die to ourselves and come back to life; we cross out the old and walk in the new…

The Jewish philosopher Emanuel Levinas said that the reason it is hard to "go out of yourself" has to do with an overwhelming sense of inertia that collapses into passivity of the soul. We get "comfortably numb" and resist waking up. When the heart miraculously becomes "elected," however, as when Abraham heard/believed God's promise, it comes alive before the Divine Presence, and by extension, it is empowered to go out of itself in blessing others. The process of sanctification puts away the old self that is lost within itself by consciously turning to spiritual reality and truth.
There has to be a starting point, however, a "conversion" of the heart that marks the transition from old to new. Abraham is our model. He did not simply make a journey away from home that eventually circled back to what he knew before – the security and history that had defined him. No, his break from his former life was radical and changed his direction forever. It was a "crossing over" into newness of life. Beyond the dimension of the physical world, Abraham's journey was one of inner transformation, and therefore it was a journey into the unknown. He was made a "stranger" and a sojourner in this world. Unlike the Aristotelian view that sees an "end" or telos (purpose) embedded within natural processes, God revealed to Abraham the glory of the transcendental world, incalculable in its beauty, depth, goodness, and holiness. Being "elected" or "chosen" by God is to bear witness of the sanctity of life by "forgetting what lies behind and straining forward to what lies ahead," striving to attain the high calling of God in the Messiah. [Hebrew for Christians]
We are all wayfarers, but the believer accepts it. He is a traveller, not a settler.