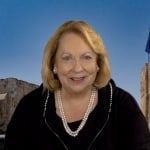 By Christine Darg
Jerusalem Channel
The world is getting a reality check concerning the irrational satanic nature of antisemitism. Angry crowds are chanting for Jewish annihilation, thirsty to see Jewish blood spilled. A chilling sign of the times unfolded at an airport in one of the Russian republics when a mob rushed an airplane of passengers that had landed from Tel Aviv; authorities fought hard to gain control.
End-time signs Jesus warned about in Matthew 24 are unfolding! These events are among the prophesied birth pains. Many believers think the Book of Revelation is unfolding now, but I do not believe we have yet entered the Great Tribulation period. Keep looking up! Our redemption draws near!
Meanwhile the Jewish people are in shock that Holocaust-like brutality has befallen them once again. The Gaza War is yet another birth pain. In Psalm 109, David was weak from fasting, his heart was wounded within. In this imprecatory psalm David calls for judgment upon wicked lying enemies. He cried, "O God of my praise, be not silent. . . . . but I am a man of prayer."
Father God, thank you that we have this recourse of prayer!
The Book of Lamentations today and yesterday is arranged in my 365- day Bible: "O Daughter of Zion your wound is as deep as the sea.  Who can heal you?"  We know only the Lord can heal Zion's wounds. "Arise, cry out … pour out your heart like water in the presence of the Lord. Lift up your hands to Him for the lives of your children. Because of the Lord's great love we are not consumed — his mercies never fail, they are new every morning, great is your faithfulness."
Amen, You are a faithful God. We are looking for new mercies for the hostages and soldiers.
What is a just war? In the daily Global Prayer Gathering of the International Christian Embassy Jerusalem (ICEJ), the embassy's president, Jürgen Bühler, a German, showed a photo of bombed-out Dresden, Germany in 1945 looking similar to Gaza City presently. He noted that his father commented that the amount of devastation was necessary to Germany in order to set the German people free from the Nazis. The clearest example of a just war is self-defence against a brutal aggressor.  In fact, war may be necessary and right, even though it may not be good. People calling for an immediate ceasefire do not understand the nature of Hamas terrorism and the need to weed out evil. In "Summa Theologica" Thomas Aquinas came to the conclusion that a just war could be offensive and that injustice should not be tolerated to avoid war.
One of the first of four hostages who have been released by Hamas— a young Persian Jew who lives in New York—said that she feels safer in Israel than in America, despite the fact that she was abducted in Israel!  She said the antisemitic hatred that is arising in America is too dangerous and many Jews are now having to hide their identity, even in the USA. Therefore, concerning aliyah (the return of the Jews to their ancestral land), God, we ask You to show Israel's leaders to extend sovereignty over much more of the Holy Land to make room for all of the Jews whom You are calling to come home. At this time, keep accessibility open to Israel for every Jewish person who wants to return to the only Jewish nation on the globe.
Abba Father, wake up the Church to understand the times. Warn Church leaders not to resist the regathering of Israel, which You are inspiring with all of Your heart and soul. You declare in Jeremiah 32: 41-42,
I will rejoice over them to do them good and will faithfully plant them in this land with all My heart and with all My soul. "For thus says the LORD, 'Just as I brought all this great disaster on this people, so I am going to bring on them all the good that I am promising them.'"