By Christine Darg
Jerusalem Channel

I am the resurrection and the life. He who believes in Me, though he may die, he shall live. And whoever lives and believes in Me shall never die.  (John 11:25-26)
Well done, good and faithful servant; you have been faithful over a few things, I will make you ruler over many things. Enter into the joy of your lord. (Matthew 25: 23)

The passing of Christian Broadcasting Network (CBN) visionary Pat Robertson to his eternal reward 8 June 2023 was a day my husband Peter and I had dreaded, for Pat not only was a great mentor to us, but also his death signals the end of an era.

Pat, 93, died peacefully in his home in Virginia Beach, and in his final days, he often talked about heaven and his desire to be with Jesus.  His son Gordon wrote, "My father was an extraordinary man by any standard. He was an evangelist, a humanitarian, an entrepreneur, an educator, an author, a statesman, a television personality, a man of global influence and tremendous vision. Perhaps most important though, he was a dearly loved father, grandfather, great-grandfather, and friend. For many of us he was also a spiritual father, guiding us and teaching us to love the Lord and live lives worthy of the Gospel."
Only God can fully measure the influence of Pat Robertson upon our generation. He pioneered Christian broadcasting–emulated and envied by many– but also he truly understood the times concerning the imminent return of the Lord and the rebirth of Israel. Prime Minister Benjamin Netanyahu once said of Pat, "We have no greater friend in the world, and I mean that–we have no greater friend."

It was from Pat Robertson that we first learned prophetic truths concerning the Levitical Feasts of the Lord–an important and extremely timely topic neglected by many traditional denominational churches. My husband was a seminary graduate with a master's degree when we joined CBN, yet it was from Pat that we learned the prophetic nature of the fall festivals of the Lord — the Feast of Trumpets, Day of Atonement and Feast of Tabernacles. The name of God in Pat's first TV station in Virginia–WYAH–revealed his forward thinking and eschatological influence.
Pat was a major force in Christian Zionism against the scourge of replacement theology. He was one of Israel's greatest and influential Christian friends. For decades he literally taught the Body of Christ about the gifts of the Holy Spirit and the significance of End-Time events as he commentated upon the news on his daily TV show, The 700 Club, the longest running in TV history. A former Marine, he was physically strong and could work long hours. But Pat was foremost a man of prayer, always seeking God for wisdom and guidance. His faith, integrity and obedience made him a great role model.
Pat's vision was to take the Gospel to the entire world, and he held a special reverence in his heart for Israel. We'll never forget the excitement of his first satellite feed from the Mt. of Olives, and we will forever be grateful that he commissioned us to go to the Holy Land in 1982 to start what became the CBN news bureau, and in those early days also the headquarters of our
Middle East TV news. This was still the time of terrestrial TV when our news tapes had to be driven by taxi daily from our Jerusalem studio to Middle East TV located in the enclave of Southern Lebanon.

The son of a U.S. Senator, Pat was influential in politics, having run for the presidency of the United States in 1986.  He was conversant on all the issues, including health. He taught us to pray for the sick, and he also preached healthy eating–surely reasons for his long life of 93 years.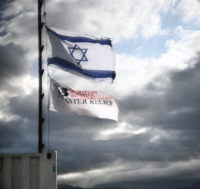 Pat's influence extended into the next generation. Our son David became vice president of CBN's humanitarian organization, Operation Blessing. Thanks to Pat's great vision to help the poor and needy, David moved wherever there was a crisis. When an earthquake hit Haiti in 2010, the Operation Blessing disaster relief field hospital flew its flag along with Israeli humanitarians. When an earthquake hit Peru, David discovered his beautiful wife Naomi who was serving as a missionary worker. In West Africa David served the sick and dying of the Ebola virus and was nominated for an Academy Award for his documentary which also won two Emmys.

Our ministry was birthed through TV training with CBN and also six years of travel with Pat's close friend, Evangelist Reinhard Bonnke. Today Exploits Ministry's Jerusalem Channel is built upon the shoulders and patterns of these great mentors. Our TV programs on Bible prophecy, health and spiritual growth that are watched around the globe would not be possible without their influence and examples.

It is fitting that Pat died on June 8. Just yesterday, June 7, we celebrated Jerusalem Day when Jerusalem was reunited according to Bible prophecy in 1967, an event that thrilled Pat as one of God's greatest watchmen on Jerusalem's ancient walls.
The summary of Pat's legacy is that he dared to believe God: he believed the faithfulness of God's Word and he dared to do whatever exploits God instructed him to do–whether it was to build a television network from $3, as well as a worldwide humanitarian outreach, the Christian Coalition, the American Center of Law and Justice or Regent University. Pat was graduated magna cum laude from Yale Law School and was undoubtedly brilliant yet he never tired of preaching the Gospel's simplicity.  Of all his attributes, Pat's childlike faith was truly remarkable and surely pleased the Almighty. For decades he led millions in a sinner's prayer on The 700 Club TV program. According to Gordon Robertson, some of his father's last words were:
"I tried to listen to the Lord. I loved you all. I walked with the Lord. I hope I've passed that on to you."
Ever diligent, Pat also recently recorded a message to share with his 14 grandchildren and 24 great-grandchildren, a good summary of his 62 years of ministry:

"I want you to know that you can always trust in God. He will never fail you. He's never failed me in my whole life, and He'll never fail you. So, I want you to know that you can trust in Jesus Christ all the way through. Don't ever doubt His goodness because He will always be there for you."
For more information on Pat's life and legacy, visit this link.