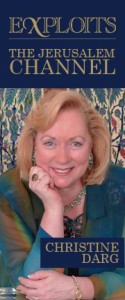 How extraordinary that the March 3 speech of Israeli Prime Minister Benjamin Netanyahu is scheduled, I believe providentailly, on the eve of the Jewish holiday of Purim, which begins this year the evening of March 4! We should not be surprised at this timing, because the God of Israel is the God of history, and He is watching over his word to perform it.
Purim celebrates Jewish victory over the Persian (Iranian) man of hate, Haman, who purposed in his heart to destroy the people of the God of Israel.  Selah! "For such a time as this" Bibi will not keep silent against the "prince of Persia."
Pray for a powerful Purim-inspired speech and for ears anointed to hear!
In a tremendous article that intercessors should read for prayer insights, The Gatestone Institute today published "Iran Speeding to Nuclear Weapons Breakout" by Bassam Tawil, a scholar based in the Middle East.Tawil calls Prime Minister Benjamin Netanyahu "a lone voice crying in the wilderness."
"As much as many of us may not like him or the people he represents," Tawil wrote, "he is one of the two world leaders in the West telling the truth, warning of what is to come (Geert Wilders of the Netherlands is the other). This burden of responsibility for his people (how many of us wish our leaders had even a bit of that?) has earned him only the venom of the Obama Administration, who see him as trying to spoil their strategy of leading by procrastination."
Who can begin to calculate the enormous pressure upon the shoulders of Israeli leaders? The prime minister is all too aware that his decisions can determine the fate of the entire tiny nation. Who, humanly speaking, can bear such a burden and responsibility? Especially with the shadow of the Holocaust in recent memory!
Golda Meir was prime minister during the Yom Kippur War of 1973, a war which nearly destroyed the Jewish state because of the sudden attack of their enemies when Israel was vulnerable, fasting and praying. That was the most devilish strategy of Israel's enemies! Israel survived by God's grace, and Golda's party won the elections in December 1973, but she resigned a few months later saying, "Five years are sufficient…It is beyond my strength to continue carrying this burden."[37][39]
Pressure continues daily to mount on Netanyahu over his decision to address the U.S. Congress on the threat of Iran's nuclear threshold. Think of the enormity of the pressure! His upcoming address has antagonized the White House and divided American Jews.
But Bibi is able to define Islamic terrorism, unlike President Obama. While some Democrats (Obama's party) will not attend, Holocaust survivor and Noble Peace Prize laureate Eli Wiesel is lending his support to Netanyahu's March 3 speech to Congress.  Also outspoken New Jersey Orthodox rabbi, Shmuley Boteach, is placing full-page advertisements in two leading U.S. newspapers, The New York Times and The Washington Post, featuring Wiesel's endorsement of Netanyahu's speech.
Both Netanyahu and his wife Sarah are being attacked by Israeli media as well as Israeli and American politicians and left-wing Jewish leaders, many of whom are behaving like traitors. We find it hard to fathom that many in the American Jewish community seem not to have learned from history and the Holocaust.
How's this for Western naiveté? While negotiating with the West, Iran is calling for its death and downfall.
On Wednesday, Iran marked the 36th anniversary of its 1979 Islamic Revolution with massive rallies where participants chanted anti-US and anti-Israel slogans, calling for their downfall.
Millions gathered in Iran's capital and other cities as the calls "Down with America" and "Death to Israel" were heard everywhere.  State television centralized these events by airing footage .
Intercessors for Israel sent out their 13 February "Friday Prayer Points," saying, "As we see it, facing this much opposition to speak truth indicates that he should go and speak. If you want another reason why Bibi feels obligated to warn of this great danger – we can point to 6,000,000 of them in the ashes of the Holocaust! Yes, his message is polarizing, but so is any declaration of truth today."
Meanwhile, the advocacy group Christians United for Israel (CUFI) has urged members of Congress to attend Netanyahu's forthcoming speech to the joint session of Congress.
"Within five hours our action alert generated more than 10,000 responses," a CUFI statement said. Respondents sent emails to their legislators declaring, "I can think of no issue more important for America, Israel and the West than our response to Iran's nuclear [ambitions]. And I can think of no voice on this issue more important than the Prime Minister of our front-line ally, Israel."
CUFI executive director David Brog reaffirmed his condemnation of those Democrats who said they would boycott the speech, based on the now disproved claim that the Obama White House was not told in advance by Netanyahu of his acceptance of House Speaker John Boehner's invitation. "Our elected officials have a sacred duty to listen to all views on this critical issue – including those with which they may disagree – before making up their minds. Whether they like the fact that Netanyahu was invited or not, they should stop acting like peevish children and start doing their jobs," Brog said.
CUFI's announcement came as senior GOP leaders stepped up criticism of those Democrats who plan to boycott Netanyahu's speech.
So how do we as intercessors pray? Always we must honor 1 Timothy 2: 1-4, which commands us to pray for our leaders in authority. Intercessors for Israel​ also wisely asked us to pray for the protection of Netanyahu, specifically: "physically, mentally, emotionally and spiritually." Amen!
And pray that the prime minister will be granted supernatural clarity as he prepares his speech. "The preparation of a man's heart, and the answer of his tongue, is from YHWH… A man's heart plans his way, but YHWH directs his steps." (Proverbs 16:1, 9, see also 19:21; 21:1)
"Surely, there is no enchantment against Jacob, nor any witchcraft against Israel. According to this time it shall be said of Jacob and of Israel, What has God done?" (Numbers 23:23)
The following prayer points were also offered by Intercessors for Israel concerning the Israeli election day, March 17:
"A win for Netanyahu's Likud party seems to be what is most in line with God's will and His prophetic Word. After all, since the opposition is willing to divide Jerusalem, why then would the nations come against it as in Zechariah 12:2-9; 14:1-4?
◦ We desire for You to raise up a government through whom You can be glorified (Psalm 115:1-3).
◦ Lord, unless we are missing something, please give Bibi and Likud an overwhelming victory.
◦ Abba, have mercy on this nation, and allow Netanyahu to be Israel's next prime minster.
◦ Give Bibi clarity and wisdom in his re-election campaign (Proverbs 21:1).
◦ Use his speech in the US Congress to raise his profile among the Israeli electorate.
◦ Cause the Israeli media to start covering the real issues and not all the innuendos about the Netanyahus.
◦ Clear up the confusion among Israelis as to what the various parties/politicians really stand for.
◦ Reveal the true characteristics of those running for a Knesset seat.
◦ The heart is deceitful above all things, and desperately wicked; who can know it? I YHWH search the heart, I try the reins, even to give to each man according to his ways…
Jeremiah 17:9-10a
◦ Block the Israeli media from manipulating Netanyahu's words or his true heart intent.
◦ Bring unity to the Likud party (Psalm 133:1-3).
◦ Overrule all events from now to the elections, so that the one whom You choose will be the one elected. – "YHWH has prepared His throne in the heavens; and His kingdom rules over all." (Psalms 103:19)