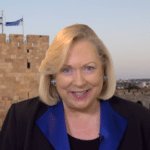 By Christine Darg
Jerusalem Channel
     As Britain and the Commonwealth have been celebrating the 70th Platinum Jubilee of Queen Elizabeth II, I've been thinking of how her lengthy reign of 70 years–the longest of any British monarch–fits in with Bible prophecy.
     We know that the number 70 represents a generation according to Psalm 90: 10, and Jesus prophesied that the generation that sees the Fig Tree (Israel) blossom will also see his Second Coming. (Matthew 24: 32)
     I'm reminded also of the prophecy by an Orthodox Russian bishop given in Moscow in the early 1900s that in the Last Days Britain will be saved by praying women and a woman will sit on the throne of England.
     Indeed, Her Majesty the Queen at age 96 has been granted an extended period of grace upon the throne to be an example of duty and stability to the nation and the world.
     When speaking on Bible prophecy, I've often noted that we have been living in an extended period of grace ever since the Six Day War of June 1967 when technically Bible prophecy was fulfilled concerning the fullness of the Gentiles: ". . .and Jerusalem shall be trodden down of the Gentiles, until the times of the Gentiles be fulfilled." (Luke 21: 24)
     The celebration of modern Israel's 74th anniversary, Jerusalem Day's 55th commemoration and the 70th year of Elizabeth's reign have all converged recently along with Shavuot/ Pentecost.
     I have prayed for Her Majesty's strength to be renewed and for the outpouring of the Spirit upon Britain and the gentiles so that the full number of gentiles (Romans 11: 25) will be saved prior to the end of the Church Age.
     As an American who by the grace of God also holds dual nationality, I am thankful for British citizenship as well. God's extended period of grace of Elizabeth's reign speaks to me of his faithful love for this great nation which has given so much Gospel light to the world and so many of God's choice servants and martyrs.
     It's extraordinary that our Queen is the first British monarch to celebrate a Platinum Jubilee in God's sovereignty. The Lord has honoured her faith and answered countless prayers of "God Save the Queen."
     Should the Lord tarry and should the Queen carry on into a 75th or an 80th Jubilee, I'm told 80 would be called appropriately "Oak." Psalm 90: 10 says ". . . and if by reason of strength fourscore [i.e. 80]" because 80 is deemed to be the year of strength (oak) and many theologians also say 80 is the maximum of a generation.