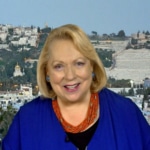 By Christine Darg
Jerusalem Channel
The Biden administration has applauded Israeli Prime Minister Yair Lapid's "courageous" call at the UN for two states in the land of the Bible as U.S. groups push for peace talks.
For Bible prophecy watchers, the timing of Lapid's call for peace and safety seemed particularly portentous coming so close to the Feast of Trumpets.
Even as Lapid was speaking, opposition leader Benjamin Netanyahu released an urgent video accusing Lapid of "endangering" Israel's future.
"Lapid is . . . putting Israel right into the Palestinian pit," said Netanyahu, charging that Lapid "is going to give them a terrorist state in the heart of the country, a state that will threaten us all."
Meanwhile, there are just 40 days until Israel's November 1 election, after which Netanyahu hopes to regain power by putting together a right-religious coalition government.
Lapid's call at the UN could in fact aid Netanyahu's campaign.  This is because religious Zionists, as well as many members of Netanyahu's right-wing Likud party, are staunchly against relinquishing Israel's ancient claim on biblical territories.
"Instead of standing in front of the world and saying wholeheartedly that the Land of Israel belongs to the people of Israel, Lapid ingratiated himself to Israel haters," said Likud's No. 2 leader, Yariv Levin, who is a former Knesset speaker.
Member of Knesset (MK) Bezalel Smotrich said that Lapid is "striving for the division of the land, the handing over of territories and the expulsion of tens of thousands of Jews from their homes."
But Opposition MK Sami Abu Shehadeh of the Arab nationalist party suggested Lapid's call at the UN for a two-state solution was merely talk.
One of Lapid's political allies, the head of the left-wing Meretz party, hailed the speech as "historic."
However, at the end of the day, Israelis must ask– does God's Word, the Bible, have anything to say on the matter?
Joel 3: 1-2:

"In those days and at that time,
when I restore Judah and Jerusalem from captivity,
I will gather all the nations
and bring them down to the Valley of Jehoshaphat.
There I will enter into judgment against them
concerning My people, My inheritance, Israel,
whom they have scattered among the nations,
and they divided up My land.

1 Thessalonians 5:3
For when they shall say, Peace and safety; then sudden destruction cometh upon them, as travail upon a woman with child; and they shall not escape.