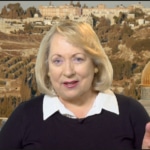 By Christine Darg
,
Jerusalem Channel
My dear friends, many prayer directives are calling us to pray at this time, and much discernment against deception is needed! I'd like to share some thoughts:
1.
PRAY FOR GENUINE REPENTANCE & REVIVAL 
Daily we must have before our minds and hearts God's prescription for our national healing as outlined in 2 Chronicles 7: 13-14. As diligently as we wash our hands, let us be mindful to fulfil these conditions. According God's clear forumla in 2 Chronicles 7: 13-14,
if during a time of drought, locusts or plagues,
God's people do four things:
–Humble ourselves
–Pray
–Seek God's face
–Turn from our wicked ways
THEN, God promises to do three things:
–Hear from Heaven
–Forgive our sin
–Heal our land.
2.
PRAY AGAINST ANY GLOBALIST AGENDA
that is trying to manipulate or duplicate this pandemic AS A FUTURE PATTERN. In the Name of Jesus, on our watch, we CUT OFF lies and false narratives to advance socialist and globalist agendas. King David prayed in Psalm 118: 10,
"All nations surrounded me; in the name of the LORD I cut them off!"
Another rendition of that verse is,
"Many enemies were around me; but I destroyed them by the power of the LORD!"
We must use our authority in prayer to CUT OFF every plan to destroy our nations. So much is riding upon the economic well being of the USA. I was blessed by a comment on Facebook by someone from Haiti: "If America is safe, then Haiti will be safe because you're the great helper to our nation."
Meanwhile, many experts are challenging the narrative that we must maintain total lockdowns due to this virus. Infectious Disease Professor Doctor Sucharit Bhakdi in Germany thoughtfully challenges the Coronavirus Crisis narrative at this link
https://www.youtube.com/watch?v=Rwb5QzJY2-s&feature=youtu.be
Dr. V.A. Shiva Ayyadurai, who is running for the U.S Senate against Elizabeth Warren, holds a PhD in Biological Engineering from MIT and does research on the immune system. He tweeted this week that the coronavirus "fear-mongering by the Deep State will go down in history as one of the biggest frauds to manipulate economies, suppress dissent and push MANDATED medicine!" In an open letter to President Trump, he wrote that the "current trajectory of Dr Anthony Fauci's public health policy will result in the short-and long-term destruction of our citizen's immune health as well as our nation's economic health…."
3.
PRAY FOR THE FOUTH ESTATE
, the media, to be purged and balance restored at this time. Disrespect and entitlement in the media bubble is at an all-time low. We must pray that the media disseminating information will get behind President Trump at this time—NOT, of course, to sanction every word that comes out of his mouth, but during wartime, the public has always needed a press that cares about the welfare of the nation rather than trying to defeat our elected officials. Jesus said that a house divided against itself cannot stand. Some time ago, the Lord showed me that something major would happen, and that we should pray that the media and political parties would finally learn that
our national interests are more important than petty politics.
4.
PRAY FOR A SPIRIT OF FAITH TO ARISE
at this time. One of my favourite scriptures is 1 John 4: 5, "This is the VICTORY that has overcome the world, even our FAITH." Trump made a statement by faith about businesses opening up again and the country getting back on track by Resurrection Sunday. He said it was "aspirational"—but I believe it was inspirational. Many pundits in the media, politicians, leftists and scientists who endlessly model statistics mocked his words. His gut instinct was that the problem is worse than the cure, and I believe he is offering us brave leadership in the face of tremendous opposition. Now Trump is being asked to walk back his projections. Churchill was perhaps the most impressive wartime leader in history. During Britain's darkest hours, he grasped the true situation, while many in his own party called for negotiations with Hitler. As intercessors, let us continue to fulfil the conditions of 2 Chronicles 7: 13-14 and believe God to grant unusual bravery to President Trump. During his presidential campaign he had already foreseen trouble by calling for border security and calling for less dependency upon China to manufacture our goods.
5.
SPIRIT OF JEZEBEL.
On top of everything else, we are dealing with a spirit of Jezebel that is challenging authority in our nation. Florida pastor Jeremiah Johnson is also calling us to pray that the spirit of Jezebel be thrown down in Washington D.C. I was appalled by Speaker of the House Nancy Pelosi 's accusation that Trump has been "fiddling while people are dying." As one who is always pushing the abortion agenda, she is a hypocrite when speaking of numbers of deaths. No Ma'am, Trump has been working night and day along with doctors and the Navy, for example, in getting the hospital ship
Comfort
ready in record days. Her accusations and opposition are operating in the spirit of Jezebel. When a person is under the influence of this demonic spirit, they become troublesome manipulators and thieves. [I go into this in more depth in my video, "Overcoming the Spirit of Jezebel Spirit." One of the chief characteristics of the Jezebel spirit is to usurp leadership. The Jezebel spirit is a despicable and demonic force that every believer in Jesus must learn to recognize; we must learn to resist it and to throw it down spiritually in prayer and by anointed decrees from our legal position in the Spirit realm where we rule with Messiah far above all demonic realms. This is what the Apostle Paul teaches us in the epistle of the Ephesians. And so born-again believers have authority to cast out the Jezebel spirit. Don't be afraid of the Jezebel spirit, as was the prophet Elijah, because "greater is He," the LORD. Like many political leftists, evolutionists and globalists today, Jezebel was so overbearing that she demanded her foreign pagan religion should become the national religion of Israel. We are seeing this pattern in America with politicians demanding that we bow to their anti-God secularism while they pretend to maintain a veneer of "religion." Throughout history and in our lifetime, we've seen politicians and leaders who've tried to impose their value system on the population. Only fasting and prayer overcomes strong Jezebel-like spirits.
6.
SPEAK LIFE!
Let us refuse to sit in front of our televisions for hours watching boxes of statistics about death. Let us daily speak life over our cities and nations.
"I shall not die but live and declare the words of the Lord."
(Psalm 118: 17) Deuteronomy 13: 3 teaches us,
"The LORD your God is testing you to find out whether you love him with all your heart."
Are you and I passing this test? During these times, the Lord is watching to see who trusts him with all our hearts– or are we listening to the fears that are being pushed 24/7.
Yes, as believers we abide by government guidelines, but we do not possess a spirit of fear but of "love, power and a sound mind." We dwell in the promises of Psalm 91. I and my prayer partners can testify that during the panic buying and shortages, we have not panicked and we have lacked nothing. Let us all who profess to be believers test positive for FAITH in this hour!
7.
PRAY FOR WISDOM AND CURES
in the medical profession. In his presidential proclamation for
#NationalDoctorsDay
, President Trump said, "Their contributions to the health and well-being of every American are immeasurable. As one Nation, we pray for their continued health and strength, and we ask God to bless them with the wisdom and resolute spirit to care for all those who need healing." Let us continue to pray for all in the medical profession who are battling this invisible enemy–for their immunity, creativity, endurance and medical integrity.
8.
PRAY THAT OUR FREEDOMS WILL NOT BE ERODED
because of this virus. A vital question is: can restrictions on our movements and public assembly be legally justified? Obeying authorities has become an issue of our personal rights being stripped away vs. national health concerns. How should we pray? We must get this balance right. Let's look at some verses:
Hebrews 13:17, "Obey your leaders and submit to them, for they are keeping watch over your souls, as those who will have to give an account. Let them do this with joy and not with groaning, for that would be of no advantage to you."
Romans 13:1, "Let every person be subject to the governing authorities. For there is no authority except from God, and those that exist have been instituted by God.
1 Peter 2:13-15, "Be subject for the Lord's sake to every human institution, whether it be to the emperor as supreme, or to governors as sent by him to punish those who do evil and to praise those who do good. For this is the will of God, that by doing good you should put to silence the ignorance of foolish people."
Additionally, Israeli Prime Minister Netanyahu quoted from the Book of Leviticus, "whoever violates the prohibition of gatherings tramples on the basic principal of 'Love your neighbor as yourself."" He added, "It is reckless abandon." Hinting at Taiwan and Singapore, he said, compared to other countries, Israel has had great success as "certain Asian countries who significantly slowed the spread of the pandemic."
So while many Scriptures teach us to obey our authorities in general, Acts 5:29 also says,
"We ought to obey God rather than men."
Should ministers openly defy government lockdowns at this time, under threats of arrest, and hold meetings of more than 10 persons? Already at least one prominent minister has been arrested for holding a rally. I believe this gives a bad name when we deliberately flaunt our faith in danger of public health.
Yet closing down churches altogether is not right. In England, where we also live when we are not in Israel, cathedrals and houses of worship are very important to the national psyche.
There should be places of sanctuary for people to pray.
First, ministers took sensible precautions themselves — no shaking hands, no hymnals that may carry the virus. Then the order came suspending public worship for the first time in Britain since 1208! As an editorial in the London Times newspaper stated, "Not for the first time, the word of God was communicated by tablets. Yet there is something about the very buildings where previous generations have sought deliverance." And in Jerualem, not since the Black Plague have the holy city's churches been locked.
While supermarkets, pharmacies and gas stations are allowed to stay open, houses of worship must be shuttered? At a time of crisis, houses of worship are important bulwarks for the spiritual, mental and physical well being of people. Our expensive church building in the USA are currently useless. I am thankful for online worship—it has it's place of course—but why can't our churches also be open for prayer during certain hours while congregants pledge to maintain social distancing?
9.
PRAY ESPECIALLY FOR ISRAEL.
Blood libels are surfacing again, accusing the Jews of spreading the virus. It's the same old anti-semitism. I'm appalled by the "TruNews" anti-semitic broadcaster Rick Wiles who is saying that the coronavirus outbreak is spreading via synagogues and is a punishment from God because Jews don't follow Jesus. He's making the same tragic mistake that Martin Luther made—the sin of impatience and the sin of unbelief in God and the holy Scriptures that the Jewish people will eventually recognize Jesus/Yeshua. When the Jews did not recognize Jesus as Messiah on Luther's time schedule, he wrote them off with the most virulent anti-semitism and hate-filled words that Hitler later used during the Holocaust. God has his own timings concerning Israel and the last days. Let us learn this thoroughly, leave the timing to God and learn how to pray peacefully for the peace of Jerusalem. Let us fulfil the biblical mandate to bless the Jews, our spiritual fathers, according to the promises in Genesis 12: 3 rather than foolishly cursing them and inviting the wrath of God.
How often has it been said that those who cannot remember the past are condemned to repeat it? Well, because we live on the other side of the Nazi Holocaust, there's absolutely no excuse for the repeat of today's virulent anti-Semitism. It's bad enough to see anti-Semitism rearing its ugly head amongst the great unwashed public, but when it re-emerges in the churches, that's really disturbing and very dangerous. Churches especially must be careful to honor our elders in the faith and be on the right side of history. Even though Jesus was involved in intense spiritual warfare with the Jewish elders of his day, ending in his sacrificial death, still he asked for forgiveness for everybody involved in his death, because he understood that they didn't know what they were doing. Furthermore, he said in John 4: 22 that salvation proceeds from the Jewish people, meaning that the Hebraic roots of our faith must be understood and assimilated. A battle of truth or consequences is going on right now in the churches over Israel. The question is: Are we going to accept the truth or bear the consequences?
10.
PRAY FOR MERCY AND FOR FAMILIES
to be strengthened at this time. Some theologians believe that our national sins have resulted in abandonment by God to be overrun by the forces of darkness. For years I have been sharing Isaiah 26:9 as a warning, and now it is coming to pass:
"For when Your judgments are in the earth, the inhabitants of the world will learn righteousness."
Pray therefore that earth dwellers in this season will learn the lessons of righteous, godly principles so that God does not need to judge us further–and hereafter we will receive a longer window of prosperity in order to preach the Gospel.
People aren't fully "getting it" yet. God has allowed this dry run of an End-time plague as a wake-up call, and in his mercy, he is hoping that we
will
repent. Tragically, during the Great Tribulation in the future, while I believe many will be saved, yet many hearts will also continue stubbornly to resist God. Revelation 16: 11 is one of the most sobering warnings in the Bible:
"And they blasphemed the God of heaven on account of their distresses, and on account of their sores; and they did not repent of their deeds."
Therefore let's now learn the value of repenting of our wicked national deeds through identification repentance (as did the prophet Daniel in Daniel Chapter 9). Let us repent for the abortions that Democratic politicians are demanding to continue while other elective operations are being postponed. It is no coincidence that presently NYC is a virus epicentre, and it was in New York that Gov. Cuomo just last year signed a bill that allows babies in the womb to be aborted up to 9 months for nearly any reason—and then he lit up a spire of the World Trade Center in pink to celebrate. Killing unborn children is not healthcare, because pregnancy is not a disease. I agree with prophetic voices that God is shaking the world right now to get the attention of those who do not know Him – that they might turn to God in their distress and be saved. Yet we MUST know the cost of following Jesus. According to presidential lawyer Jay Sekulow, a New York Times editorial hatefully asserted that "the road to Coronavirus hell was paved by Evangelicals." Christians who pray for Trump and Vice President Pence were targeted. Sekulow said the editorial was a direct assault on the Church. The NYT editorial follows on the heels of a radical Left organization funded by billionaire George Soros claiming "it's time to abolish the family."
"Search me, O God, and know my heart; test me and know my anxious thoughts. See if there is any offensive tendency in me, and lead me in the eternal way."
Psalm 139: 23-24
11.
LET ALL ANIMAL LOVERS PRAY
that the live animal wet markets in China be shut down. Dogs and cats are packed in inhumane cages. Some animals in these markets are reportedly tortured before they are slaughtered because it's believed that the torture releases certain hormones that make the animals become tastier food. That is sick, perverse and against every humane principle. Furthermore many unclean foods are being purchased and are targeted as possible virus carriers. Among other unclean animals, the Torah stipulates that you may not eat: "the eagle, vulture, kite, any kind of falcon, raven, gull, hawk, owl; osprey, cormorant, stork, any kind of heron, hoopoe and BAT." Some people believe the bats in these markets were the cause of the present coronavirus. God gave us prohibitions against eating unclean animals, yet many believers ignore His wisdom, and say it's not relevant—it's "just the Old Testament" they derisively say.
12. FINALLY, LET US PRAYERFULLY LOOK UP
and rejoice in our discomforts for our redemption IS drawing nigh. Throughout history there have always been plagues, but Jesus said–coupled with the rebirth of the fig tree nation (Israel)– the End Times would be characterised by earthquakes, famines and pestilences. God in his mercy has given us this time and a large space to reflect and to repent. Never in my years of living have I experienced such an enforced sabbatical.
Consider the words of Sir Isaac Newton, that forward-thinking scientist, who wrote that "about the time of the end, a body of men will be raised up who will turn their attention to Bible prophecies and insist upon their literal interpretation, and he said this would happen in the midst of much calmer and opposition."
Loving greetings to you all and standing firmly on God's promises, Christine Darg